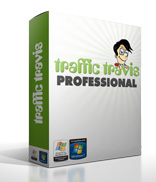 Traffic Travis Pro Review – Spy on your competition with Traffic Travis
[section label="What it does"]
What it does
Traffic Travis is SEO software to improve the rank of your website in the search engine results. It works with the Windows OS.
[section label="Level of expertise needed"]
Level of expertise needed
Advanced beginner or Intermediate. Though the interface is simple to learn, you need at least some knowledge of websites, search engine optimization, keywords and link building to understand how to put the information to use that Traffic Travis supplies.
[section label="My experience"]
My experience
I've used Traffic Travis Pro on a regular basis for years. It works great to analyze my backlinks and rankings. I use it for all of my keyword research. So my Traffic Travis review is definitely positive.
It works well for my own sites and for managing my client sites. There is a huge amount of information you can get with this app.
You need to know what a keyword is, what a backlink is, how important page rank is. You have to understand the basics of search engine optimization or you'll just be guessing what to do with all this information. And there is a lot of it! This software tells you absolutely everything you would ever want to know about your website or a competitor's site.
The interface is very clean and actually quite easy to learn. The reports section is very handy. I can print out graphs to show clients or just store the information for future reference. The graphics especially make it very easy to see how a site is doing.
The software will do a site audit in terms of SEO on any website. If you've made some technical blunder, which I've got to tell you is really easy to do, Traffic Travis will point it out.
Probably the best reason to get Traffic Travis is so you can spy on your competition. This software tells me what they are doing. If they're doing it better than I am, I can figure out exactly how by using all the Traffic Travis array of tools. It analyzes the heck out of their backlinks and keywords. This is info I need!
I use it regularly so I can easily tell if my search engine rankings are going up or down. It tells me which sites to worry about and to do some work on.
It shows me good places to find quality backlinks, one of the most important and tedious jobs of SEO. I rely on this info to get the best links for each of my sites and for those of my clients. They also offer a great Traffic Travis Walkthrough where you can see the software's features before you buy it in a awesome video!
The price is right and I get free updates. If you're on a budget, this is a great deal. I recommend that you get Traffic Travis Professional. It has a seven day Traffic Travis trial for just $1. You can't beat that. See below for the Traffic Travis coupon code for this deal.
The free version is handy but is definitely limited if you have more than one site or a site with a large number of pages.
[section label="Bonus 1″]
Traffic Travis Pro Review – Bonus 1

You can download Traffic Travis at www.traffictravis.com. By the way, if you make your purchase through my link, you'll get these bonuses for free:
==> http://www.traffictravis.com/redirect/traffic-travis-affiliate-bonuses (more information on bonuses + images is available here)
[lists style="check" color="#81d742″]
BONUS 1: "How to Profit Wildly from your own SEO Business"
BONUS 2: "Secrets of a Link Building Genius"
BONUS 3: "Offline Traffic Millionaire Secrets"
BONUS 4: "How to Drive Floods of Repeat Sales with Email Marketing"
BONUS 5: "How to get High Search Engine Rankings from Beginner to Advanced"
[/lists]
[section label="Bottom line"]
[section label="FREE HUGE Bonus Package"]
Traffic Travis Pro Review –

HUGE Bonus 2

[alert variation="alert-warning"]If you do decide to purchase Traffic Travis, you will be able to claim a FREE HUGE BONUS package. Click here to see the bonus packages you can choose from. [/alert]
[alert variation="alert-success"]If you already purchased Traffic Travis through my links and are looking to claim your FREE bonus package. Fill in this form or forward your purchase receipt to (internetmarketingmozie [AT] gmail [DOT] com) and let me know which Bonus Package you would like :)[/alert]
[alert variation="alert-danger"]Please note you can only claim a FREE Massive Bonus if you purchase ANY PAID product through one of my affiliate links. You only get to choose ONE HUGE Bonus Package per purchase receipt.[/alert]
Bottom line
I highly recommend Traffic Travis to anyone with a few websites of their own or to SEO professionals who monitor client sites. I've used it myself for years for both and it's given me good results and data for myself and my clients. I rely on it still regularly. It's easy to learn and it delivers all the information I need and want. I can easily spy on other people's websites, get an idea how they are achieving a better rank than I am. This is gold! Then I can update my own site and watch it move up in the rankings. The fact that it can do keyword research is quite a nice feature too. Since any good SEO guru knows that choosing the right keywords is the ground-works for success is SEO.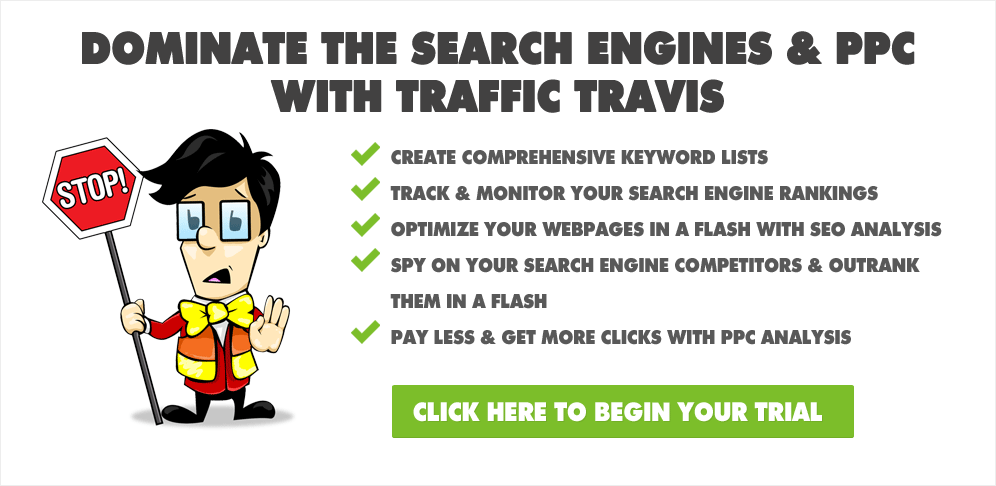 I hope you were able to make an informed buying decision by reading my Traffic Travis Professional Review. Be sure to keep updated with the

best SEO software on the market

today. Fill in your email below.
Exclusive Traffic Travis Pro Bonus Offer From IMMozie.com