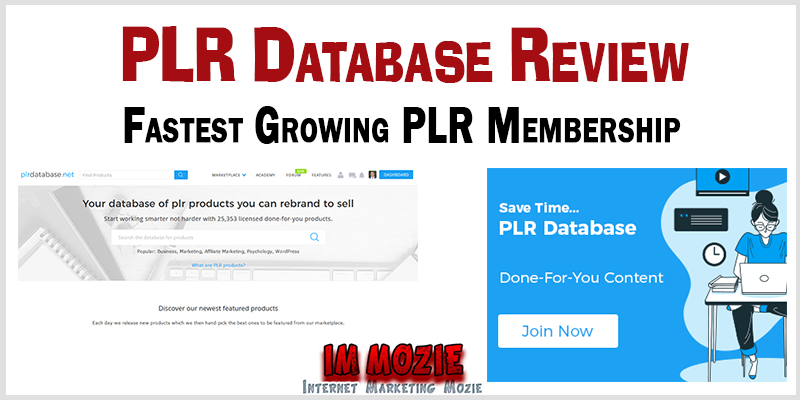 What Is PLR Database?
This is a free PLR membership website as well. There are additional premium memberships you can purchase, and I'll cover both the free and paid memberships a little later on in this review. These are fully resellable digital products. You can edit them, rework them, repurpose them, slap your name on them and do anything you want with the content.
PLR Database is just what it sounds like … a database full of different types of private label rights products. Daniel Taylor is the entrepreneur who built the site, and he has a long history as a successful Internet marketer. PLR database began as Webbzo.com, a simple web directory. Mr. Taylor acquired 4 PLR and MRR sites which had more than 9,000 products and turned it into a PLR membership site.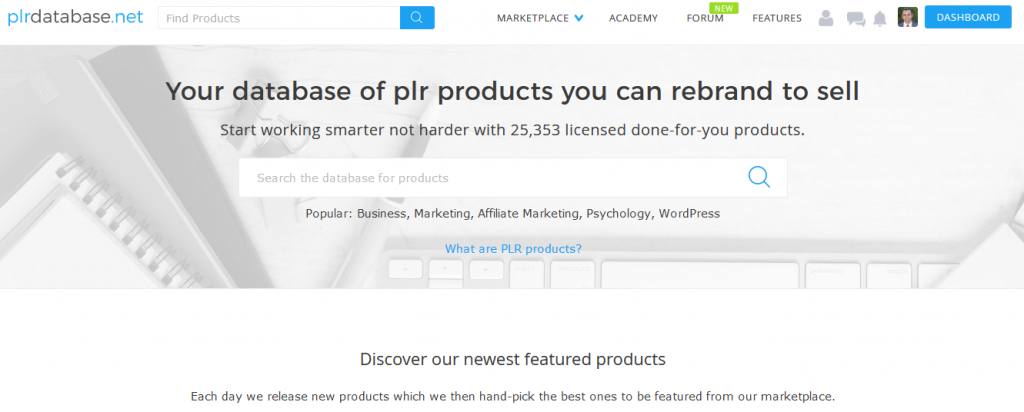 The site has become popular with bloggers, Internet marketers and other entrepreneurs that need lots of content for their businesses. It is a rapidly growing PLR membership site where new PLR products are added literally every single day.
You'll find WordPress plug-ins and e-books, articles and autoresponder sequences. I am an active member of the site. That means you might meet me in the forum where people hang out and talk about how to use PLR to grow their businesses.
I've got to tell you that I highly recommend the dirt cheap memberships because of the high-quality content you get here. Let's take a closer look to see if the PLR database content is right for you.
Who Are PLR Database's Exclusive PLR Products Right For?
I have run a lot of online businesses. I talk to successful bloggers, Internet marketers and online entrepreneurs on a regular basis. When they ask me what I think about PLR Database, I'm very honest.
I'll be honest with you too. If you have an e-commerce site you can benefit from the quality PLR Daniel Taylor offers. If you are an Internet marketer or product creator, you blog or own a website of any kind, I believe the site has value. Simply put, if you have any business presence on the World Wide Web, you need content.
The monthly membership packages with tons of different content can fit just about any online business. The reason why I say that is because the amount of content on the site comes from more than 20 online membership sites. This is a massive collection. And don't worry, the membership fees are incredibly affordable (there's even a free membership).
By the way, do you sometimes want to talk to a successful Internet marketer and get his or her advice?
You can do that through PLR Database. When you sign up, you get access to a community forum. You develop your profile and you can private message others. This is extremely unique in the PLR community. It gives you instant access to thousands of marketers that can help you use PLR the right way.
I also recommend this digital products PLR membership site if you are new to Internet marketing, blogging or running a business online. That's because everyone gets access to a feature called "Class Resell". This is a lessons section that is primarily there to help answer questions that beginners have about using PLR and running an online business.
The lessons teach you how to purchase a domain name and find a web host. You learn how to set up your own sales pages and find quick and helpful resources online. There are 46 total lessons in all and they can really help newbies (or anyone else for that matter) get the most out of their PLR and get an online business up and running quickly.
The bottom line is this … if you need content on a regular basis, PLR Database is the place to be. Next up I'll show you a few of the many topics and markets the site covers.
Exploring the Content at PLR Database – What Niches are Covered?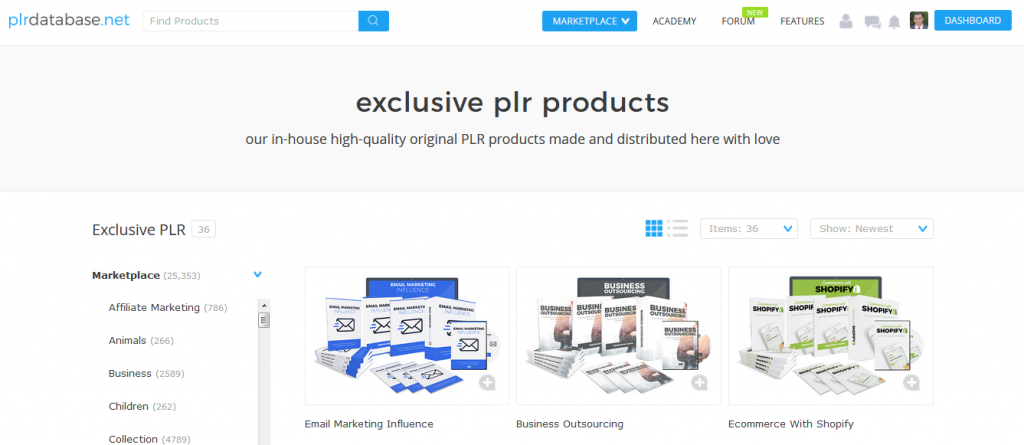 The website currently breaks down its content into 29 major categories. Each one of those larger categories will have several topics of interest and niches in them.
For instance, when you head over to the Marketplace and click on the Affiliate Marketing drop-down menu, you see there are 783 different products to choose from. Here are a few of the titles I found in a recent browsing session.
WordPress Affiliate System
Affiliate Marketing Mastery
Commission Lifestyle
Joint Venture Profits E- Course
Article Marketing Explained
Click Bank Affiliate Cash
All of these courses or e-books have something to do with affiliate marketing. Under the broader affiliate marketing niche you seed topics like ClickBank, article marketing, joint ventures and WordPress are covered. This is just one example. Each of the 29 categories in the marketplace has PLR content covering subcategories and smaller niches. Here are a few more of the categories you can browse.
Computers
Crafts and Hobbies
Food and Cooking
Health
Images
Internet
Marketing
Mobile
Money
Relationships
Sports and Outdoors
Travel
WordPress Themes
If you're not sure you'll find what you're looking for, do this. Click the following link.
Then click on the Marketplace tab at the top of your screen. If you're on a mobile device, you may have to click a Menu tab first. Under Marketplace choose Categories, and you will see there are 29 categories of content. You can click on any of them and browse them to see if you can find what you're looking for.
By the way, it's free to do this. You don't have to sign up or register. However, I highly recommend registering for one of the free or paid monthly memberships. (Don't worry, I'll cover the different membership options in just a little bit.)
What Types of Products Are Offered?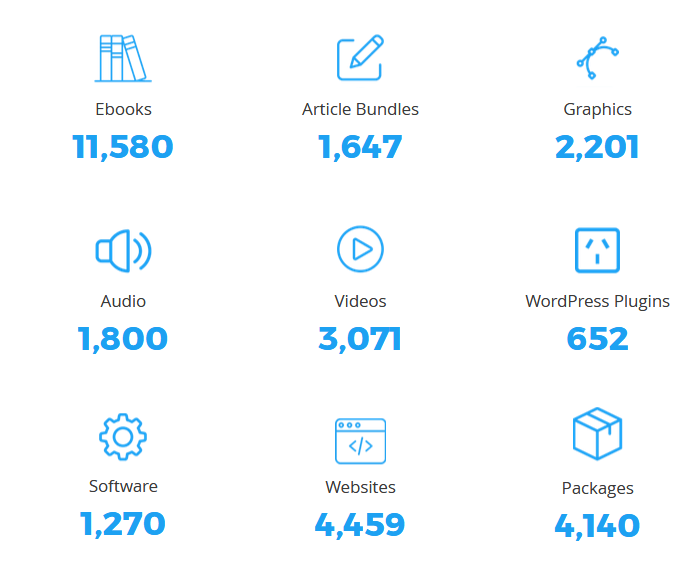 I touched on this a little bit earlier but let's get more in-depth. Some of the products you find on PLR database are typical of any PLR site. It probably wouldn't surprise you to discover that you can get e-books and articles there. In many cases, the website offers types of PLR you can't find anywhere else. Here is a partial list of the usual and not so usual PLR offerings you can get at this membership site.
E-books
Articles
Audiobooks
Web Scripts
Tutorials
Software
Audio tutorials
Graphics
Videos
Complete websites
WordPress themes and plug-ins
Templates
That's truly just the tip of the iceberg. If you can think about a type of content you need, I can almost guarantee you'll find it here.
What Types of Licensing Do I Get?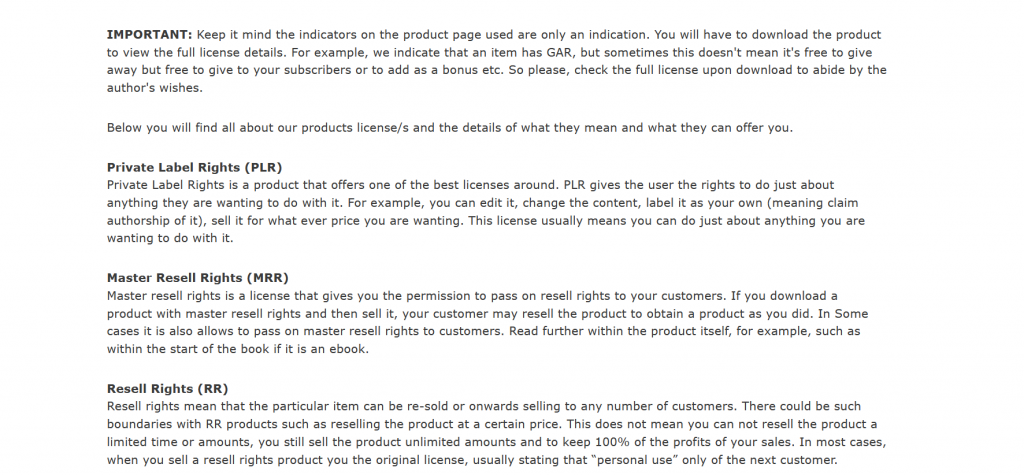 I have found a lot of good PLR that comes with personal use rights. In other words, if you buy something with personal use rights, you only purchase the right to use the product yourself. You can't resell it. This is for people who are looking to learn how to do something or gather some other type of information. This is just one of the many types of licensing categories provided by PLR database.
All in all, there are more than 25,000 PLR products offering one or more of the following licenses.
Commercial Use
Giveaway Rights
Master Resale Rights
Private Label Rights
Personal Use
Resell Rights
If you need a specific license, you're going to be able to find some products that work for you.
The one thing most PLR memberships have in common is that they all stock similar packages and many of the good stuff only comes with MRR and resell rights licenses. This is because the original creators of some of the PLR packages do not allow anyone else to sell their products with a PLR license. You can visit our PLR packages section to see examples of some PLR content packs.
PLR Database Pricing – 4 Memberships to Choose From
If you're looking for a free PLR membership website, look no further. Like a lot of other private label rights providers, the folks at PLR database offer free content. All they ask is that you register. It's absolutely free to do so. There are no hidden charges.
As you can imagine though, you're not going to get as much free content as if you sign up for one of the affordable membership plans. There are 4 different pricing structures – free, $10 per month, $25 for 3 months and $49 for an entire year.
The Free Membership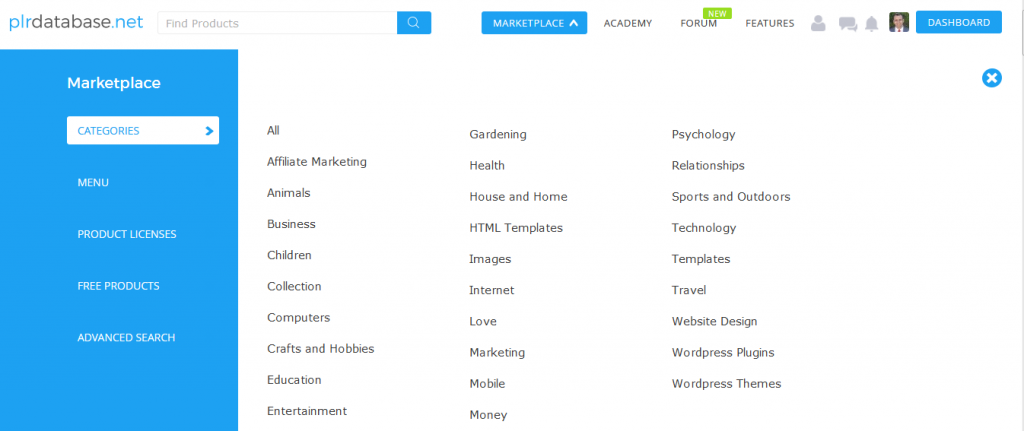 You can download free PLR products that come with full licensing. This means you can edit the content anyway you like, put your name on it, repurpose it and use it however you see fit. All free products listed on the site are yours to download for no fee.
I really like that the free membership also includes lessons and learning materials, and even a class that teaches you more about how to use PLR in your business. You can join the PLR Forum and create your own profile. You can learn from others about best practices, tricks and techniques to get the most out of your content.
As I mentioned above, the amount of free content is limited. But hey, free is free, and if you're not going to be using much content, this might work for you.
$10 per Month Premium Membership

I'm willing to bet you've got $10 lying around. If so, and you're not sure if you want to buy a 3-month or year-long membership, this is where you want to be. Spend 10 bucks and you get unlimited downloads for 30 days. You read that right, absolutely unlimited downloads. Any content on the site, no matter what its value or the type of product, you can download and use.
You receive full licensing and the class and lessons I talked about earlier.
You can join the forum, create a profile and interact with other marketers. There are exclusive products, platinum products and premium articles and they are all yours to use as you see fit.
$25 per 3 Months Premium + Membership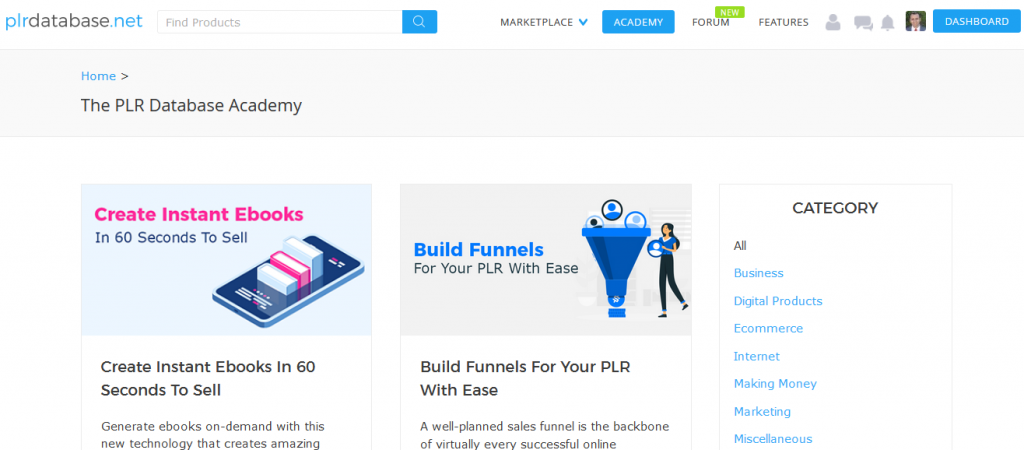 What you get here is no different than with the $10 per month membership. However, you only spend $8.33 per month, since you're getting three full months for $25. You get the unlimited downloads, full licenses, class and lessons and all other benefits of the $10 per month premium package.
The benefit here is obviously by paying for three months instead of one month, you lower your cost per month. This option saves you $5 over a three-month period versus choosing the $10 per month option.
$49 per Year Premium ++ Membership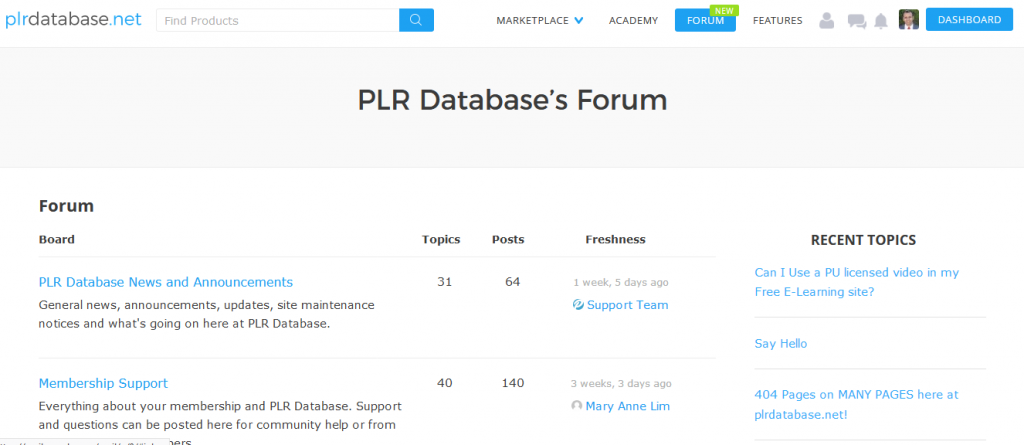 This is far and away the best value. If you simply paid $10 each month you would have invested $120 at the end of the year. Don't get me wrong. With more than 25,000 pieces of content, that is a screaming good value.
However, if you pay for a year ahead of time, you spend just $49. This saves you $71 versus choosing the $10 per month option over the course of a year. You still get unlimited downloads and full licenses.
The forum, class and lessons are all there. You get access to the same exclusive products, platinum products and premium articles as in the other paid membership options, and you save some serious money at the same time.
PLR Database Review Summary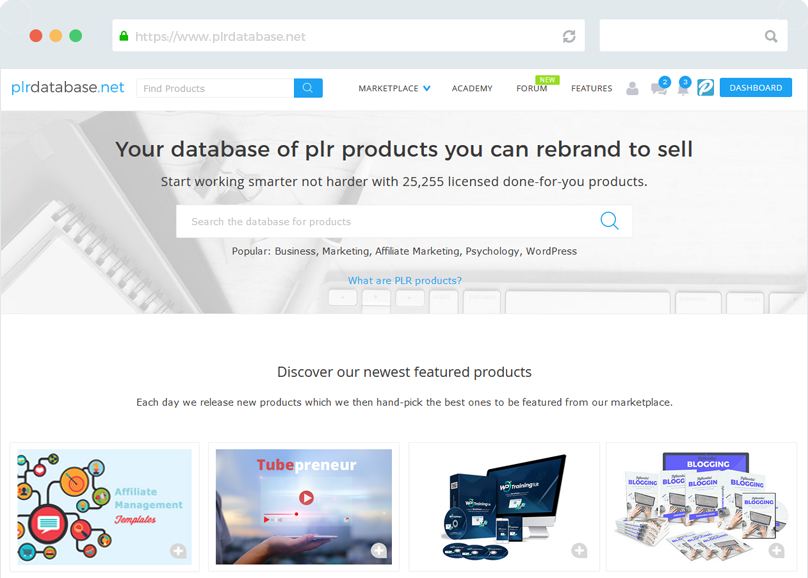 If you use PLR, I recommend clicking the following link and signing up at PLR database.
If nothing else, get the free membership and start browsing. Join the forum and talk to other marketers. Take the beginner's class and enjoy the free lessons that help you get the most out of your PLR. Remember, you'll get unlimited downloads for any of the products which are offered for free. You also receive full licenses.
Just understand that there are a limited number of free PLR products in this membership. When I first got started I chose the premium $10 per month membership. I knew I could download content that was worth hundreds of times my low monthly cost. After I took a look at the products and began downloading them, I realized I was going to be using the website for a long time.
I currently pay the once a year $49 and couldn't be happier. Whatever you decide, get signed up in the forum and choose a membership package that works for you. Then maybe we'll meet up in the forum and enjoy a PLR-related chat. Honestly, if you need content for your business, I highly recommend a PLR Database membership.
Exclusive Content Sparks Bonus Offer From IMMozie.com