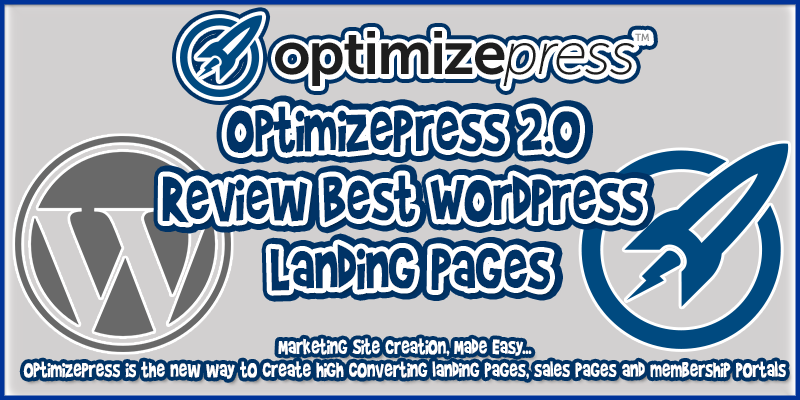 Optimize Press 2.0 – Best WordPress Landing Pages Review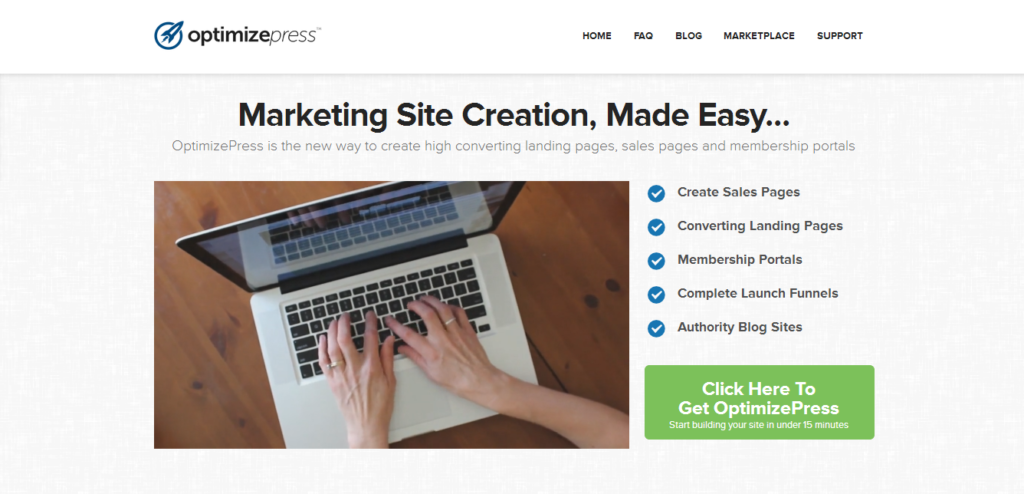 Content marketers everywhere know how important it is to have expressive, responsive and attractive landing pages if they are to make any conversions or generate leads. This is where my OptimizePress Review is going to help you make a decision whether this tool is the right fit for your needs. One tool that you can use to easily setup landing pages is the OptimizePress 2.0 plugin for WordPress.
Here's an Overview of an OptimizePress 2.0 Review I made
Item:
                                                  OptimizePress 2.0
Author:
                                             Internet Marketing Mozie
User Friendly:
The primary concern of many webmasters looking to build professional landing pages is how will they sync their landing pages with their existing website? OP 2.0 removes this concern completely by offering two variations of the platform, one that is Theme Based, and another one that can be integrated into your existing WordPress website with the help of a plugin. The Interface is self-explanatory and with some testing and tweaking you can be on your way to building high converting landing pages for your products in record time.
Features:
Ability to build and edit pages in real time with Live System Editor.
All Pages are Fully Responsive and Mobile Ready without any additional labour.
Comes in Theme + Plugin Format offering options to those that do not have an existing website and also those who have their own website.
50+ Templates (Earlier 30 – Stats Updated March 2017) to choose from, plus a 50 more-high converting Optimize Press Clubhouse templates (Now known as Optimize Press Publisher) to choose from if you take the Publisher Plan.
40+ Custom Elements with Short Codes to Add Functionality to your page.
Build anything from Landing Pages, to Secure Membership Portals, Sales and Marketing Pages, Product Launch Funnels, Free Training Course, Authority Blogs, Webinar Registration Pages and Mobile Ready version of all pages, seamlessly with this best WP landing page builder.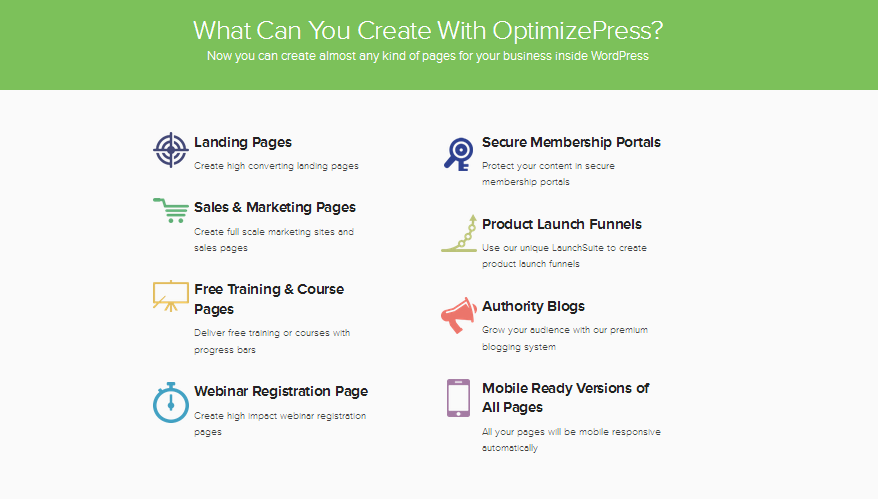 One Time Fee or Subscription:
They have removed the monthly membership plans and replaced it with their One-time payment plans. Their one-time payment plans for the OptimizePress WP Plugin and Theme include Core Package at $97 with limited features, Publisher Package can be used by up to 10 Websites with all features unlocked and the Pro Package that can be used on 30 websites or more. For an extra 100 Dollars, the Publisher Package definitely packs more bang for your bucks because of the addition of the 50+ High Converting Landing Pages which are missing in the Core Package.

Price 
OptimizePress 2.0 Price – is AFFORDABLE! (If you are looking to make multiple websites) To buy the OP 2.0 plugin, you are provided with three one-time payment packages with an optional up-sell of the club house membership, including;
Core Package – $97 once off – For use on only 3 sites you OWN and RUN.
Publisher Package – $197 once off – For use on only 10 sites you OWN and RUN.
Pro Package – $297 once off – For use on unlimited sites that you OWN and RUN.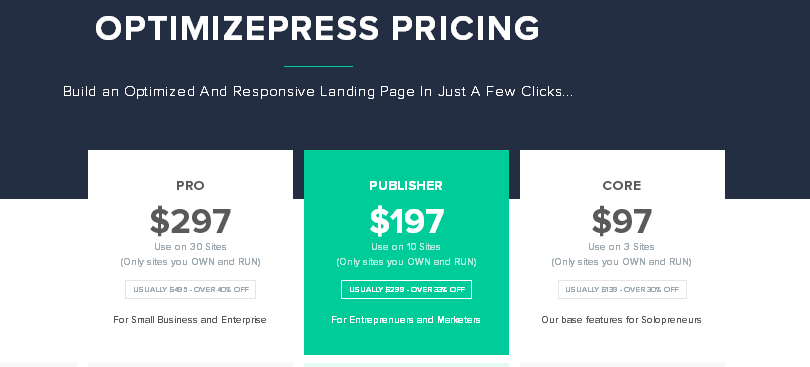 Looking for Detailed Optimize Press 2.0 Reviews? Keep Reading.
Why I Like Optimize Press 2.0
If you are looking for the best WordPress Landing Page Plugin for Marketers, then this might be a good choice to consider, taking into account all the features, templates, support of the platform. It's a good package and it is affordable too since I have to pay once and I can use it for up to 30 websites. I am presently using 3 licenses in over 77 websites.
The flexibility to choose between the theme option or the plugin option is also a great feature considering sometimes you may want to build a product launch website from scratch, while at others you might just want to plug a landing page in your existing WordPress. It's a hassle-free experience.
The Live Editor is amazing for those who want to rapidly experience the changes on their website and not have to preview every time they make design changes.
The software also has a built-in Audio and Video player.
There are niche specific templates available for all kinds of Marketers, Online Coaches, Bloggers, Lead Builders etc.
Accompanies with itself a wide range of Tutorial and Training Videos to give you the upper hand and the skillset to make the most out of each and every feature that the software offers.
Though Customer Support is not that great in the Core Package, but the Publisher and Pro Packages have Priority Support. They deal with my concerns in a matter of hours, if not minutes and I have no reason to complain about their support. 24 x 7 Available for me. ?
Why I Don't Like Optimize Press 2.0
For one, they do not have any single site plans or plans for marketers that are tight on budget. Because not everyone wants to make multiple websites and not everyone has multiple products to promote, so even the basic plan of 3 websites is a waste for people who just want a single website license. Maybe they could price it at $47 or something.
If you want to integrate Optimize Press 2.0 with your theme, then before purchasing you need to check its compatibility and all. It it's not compatible with your theme, things can get a bit messy, but you can work around that with the stand-alone theme version of the software.
If you do not have any WordPress website building experience, or experience with drag and drop builders, you might have to spend some time understanding the platform, and things can get a little stick on this end.
Bottom Line
If you are an internet marketer, affiliate marketer, product seller, blogger, business owner, online coach or anyone looking for the best WP landing page builder, then Optimize Press 2.0 is surely one of the best WordPress landing page plugins you should consider. What's best is that they offer a 30 day, No Questions Asked Money Back Policy, so if for some reason (which I fail to understand), the software doesn't fit your needs, you can request a refund and they will oblige without asking any questions. I have used many solutions for building landing pages, but for me this is undoubtedly one of the best WordPress landing page plugins out there. The amount of customizability and control it overs over the various parts of a marketing page is commendable and it makes the process a breeze for beginners as well due to its pre-set templates.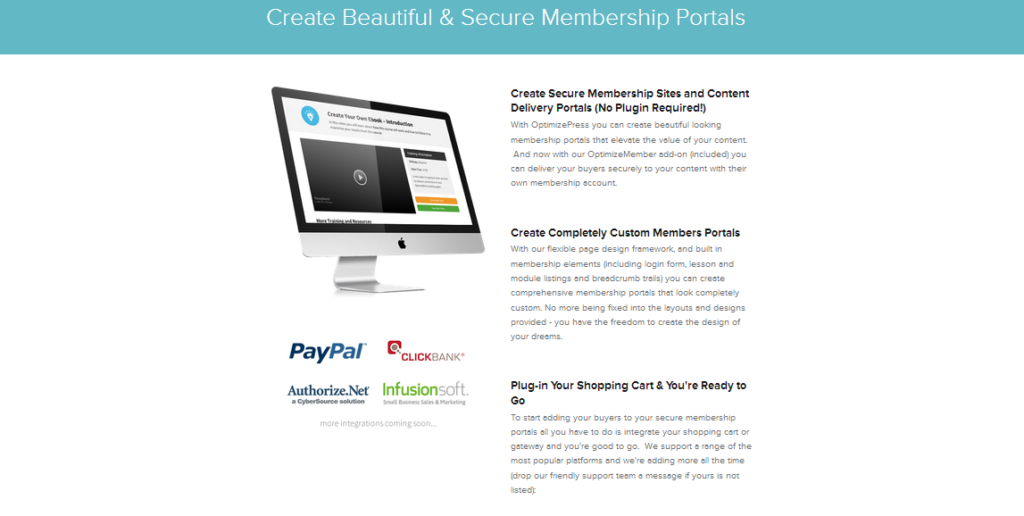 My Honest OptimizePress 2.0 Review
I was in the SEO Game for over 8 years. But in 2014, when penguin 2.0 launched, it took with itself around a thousand niche marketing websites that belonged to me.
I was devastated. I quit working on my SEO Company, and started Internet Marketing and Affiliate Marketing on a full-time basis and ever since then, I have been using OptimizePress, OptinMonster and Mail Chimp as my primary tools for lead generation and marketing.
To this date, I have used Kickofflabs, Leadpages, Unbounce, Lander and Optimizely, but no tool comes as close to the price to feature customizability ratio that OptimizePress 2.0 has to offer. I am from a non-coding background, which speaks multitudes about how important a drag and drop website builder is for me.
The best part about this tool is that it is compatible with WordPress, easy to setup and easy to use. Another point which is worth mentioning is that there are quite a few OptimizePress 2.0 bonus to choose from when you purchase the tool.
What Have I Built with OptimizePress So Far?
I have used OptimizePress 2.0 to build the following types of Pages, for me and my family members, (yes, quite a few people in my family are from the IM background.)
Landing Pages
Course Pages
Webinar Registrations
Sales and Marketing Pages
Secure Membership Portals
Download Pages
Thank You Pages
Product Launch Funnels
Pre-sell Pages
Affiliate Pages
Bonus Pages and more.
The sky is your limit, when you are using OptimizePress 2.0
No other landing page builder can be used to make so many diverse types of pages, or offer all these features at the price OptimizePress is doing.
One point that I find worth mentioning is that I am actually able to build full scale funnels and landing pages in a matter of minutes (say an hour max), if I have all my content, images and other resources compiled before I start building with OP 2.0
Check out some real examples of websites that I have built with OptimizePress, and mind you these are some of my most visited websites:
–Internet Marketers Education (Landing Page)
–IM Education Training (Coaching Page)
For these two pages, I hardly website time during the development process because everything synced so well with the Pre-set templates, and page builder elements that they offer.
Let's Take a Look at all the Features of OptimizePress 2.0
You can build unlimited amount of Responsive and Mobile Friendly landing pages, and they are not restricted by limited traffic, that means that you send hordes of visitors to your page, without the fear of exhausting your plan.
Three Highly Versatile Marketing Blog Themes that can be used to make any kind of authority blogs that you have seen.
Want to build a Membership Website? No problem, OP 2.0 can do it for you.
Want to Create Protected Product Delivery Pages, no problem again.
All Plans Offer Up to 1 Year of Support and Core Updates, then you need to buy your plan again to get Support from their team.
60+ Product Integrations and Services (More on this after the features)
50+ Free Optimized Templates Included with Every Plan
A Comprehensive Library of Marketing Elements, Banners, Graphics and other Multimedia available to choose from the Library itself.
The ability to A/B Split test your landing pages
Track Statistics for all your visitors without leaving the comfort of your OptimizePress Dashboard.
Advanced Video Backgrounds available in Pro and Publisher Package.
And more if you use the Plugin… they are constantly enhancing the plugin….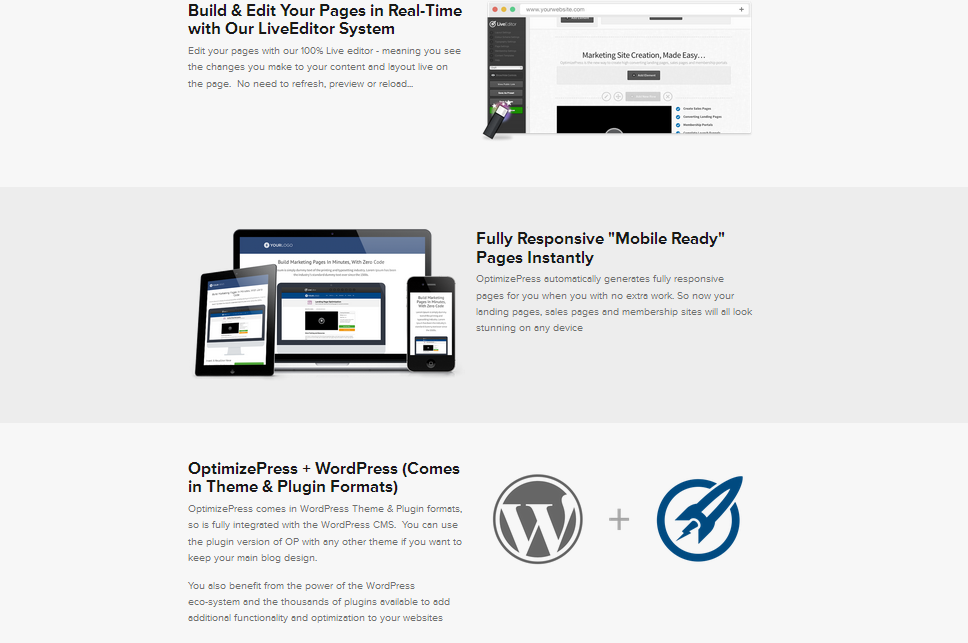 Let's Shorten What Ever I said Before (Why It Rocks)
The onetime payment plan makes it quite affordable for marketers and online business starters, there's the flexibility of being able to choose between the Theme or the Plugin when you buy. The tool is able to produce high quality and conversion ready mobile and desktop templates in a matter of minutes.
They have all your needs covered, from resources to tutorials and great support, can't expect more from any Marketing Company.  Their Priority Support is on 24 Hours a Day, 365 days a year and this is priceless, when it comes to stick situations that need immediate assistance to get resolved.
Integrations Available:

Social Integration
Email Integrations
Google Recaptcha
ARPReach
AWeber
iContact
GetResponse
GotoWebinar
Mail Chimp
Ontraport
E-goi
Spokal
Custom Form Integration
Emma Email Marketing
GVO Autoresponder
Active Campaign
Infusionsoft Integration
Email and Payment Integration
Affiliate Programs
iDevAffilaite
AffiliateWP
Payment and Gateway
Stripe
PayPal
ClickBank
JVZoo
Office AutoPilot
Ontraport Gateway
Premium Web Cart
SamCart
Zapier
Third Party Membership Plugins
Wishlist Member Login Form
Digital Access Pass
Wishlist Member
Other Integrations
Mandrill App
SendGrid
Shopify
Gumroad
And more.
Level of Experience Needed to Use OP 2.0?
I am not a coder. In fact, I am far from being a coder. I cannot understand the difference between HTML and CSS or any other language. If I can use OP 2.0 without any problems, I am sure that anyone can. Depending on your requirements, you might need to do a little bit of digging to get the most out of this best WordPress Landing Page builder plugin, but apart from that you will face no problems.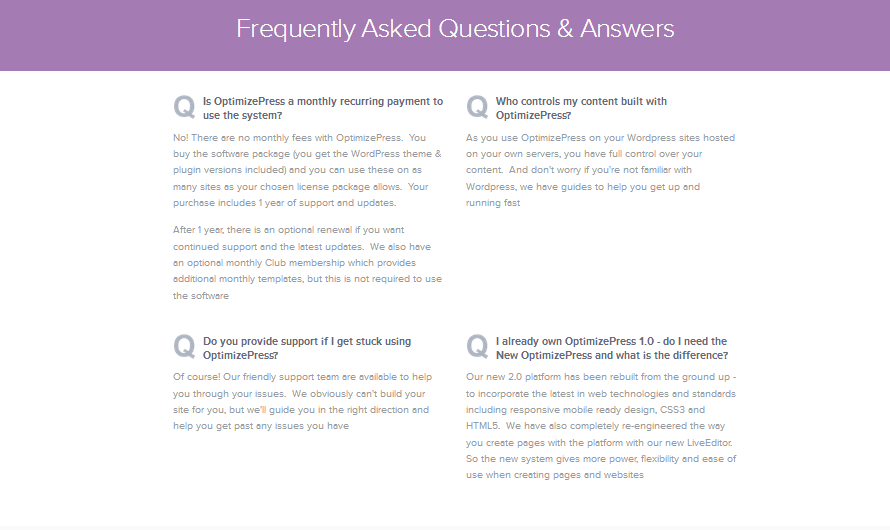 Themes and Templates Found Inside the OptimizePress Clubhouse Membership
I have made a small video to give you a sneak peak of the beautiful templates that are constantly being added in the Club House and are exclusively available to the Club Members. This was, one of my biggest attractions to join the OptimizePress Club Membership.
Before You Go!
If you have ready any other OptimizePress 2.0 Reviews online, you will find that there is one thing in common about them. All the honest reviews will definitely give credit to the professionally made layouts that are provided with the Core, Publisher and Pro Accounts, not to forget what's found inside the Club is beyond gold.
For Internet Marketers, Affiliate Marketers, bloggers, Product Sellers and Business Owners looking for the best WP Landing Page builder to create professional landing pages, Optimize Press 2.0 WP Plugin is the tool that you need. It is not a surprise at all that most top Internet Marketers recommend this tool.

Exclusive WordPress Landing Pages Bonus Offer From IMMozie.com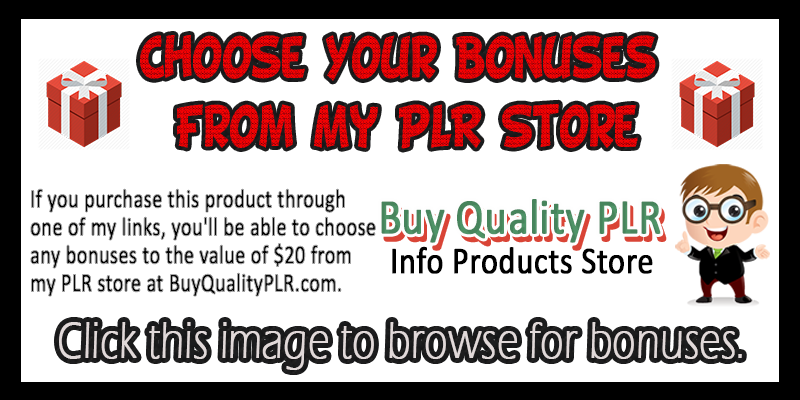 ---