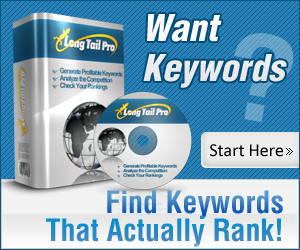 My Honest Long Tail Pro Platinum Review
finding low competition keywords with good exact searches just got a lot easier and faster. Watch 

Long Tail Pro Platinum

in action on my video tutorial and see why so many internet marketers love it! Also come get $20 off by purchasing through it through one of my links.
What it does
Long Tail Pro is software that helps you find low competition keywords that are easy to rank with the search engines. It analyzes and searches for keywords based on seed words give it. But instead of just telling you what it's capable of, let me show you how to use long tail pro, how I use it and how it saves me tons of time everyday. Watch the below video:
Level of expertise needed
Intermediate to advanced beginner. The software itself is very easy to use but you need to understand the importance of keywords, which requires some experience with SEO and internet marketing.
One-time or subscriptions price
Three plans:
• 10-day free trial of the full Pro version
• Buy the Pro version for $97, if you click here you can buy it for $77.
• Buy the Pro version ($97) plus the subscription for $17 a month. You can add the monthly plan at any time after buying the software.
Major features
• Search for several keywords at the same time
• Up to 800 results for each keyword
• Find available domains automatically
• Get title competition data from Google and Bing
• Analyze competitors in the first ten results of Google
• Look at ranking of sites in the three major search engines, Google, Bing and Yahoo
With the monthly subscription, add these features:
• Figure out the competitiveness of each of your keywords
• Keep a list of favorite keywords
• Import up to 10,000 keywords at one time
My experience
I rely on this long tail keyword tool. It is one of the mainstays of my internet marketing efforts. Without traffic, what have I got? A bunch of graphics and words. I need traffic to make a living. And so do you.
With Long Tail Pro, I can easily find low competition keywords, with exact match searches! By targeting these keywords, I can easily get good rankings for my sites and those of my clients.
Long tail keywords in SEO terms are what you get when you drill down. "Lose weight" is a keyword. "Paleo diet for quick weight loss" is a long tail keyword. Because it is so specific, it has far less competition than the more generic "lose weight." And therefore, it is possible to get good rankings in the search results relatively easily.
With the right keywords, you can increase your natural traffic quite quickly because those are the words that buyers are actually typing into the Google search bar. Spending the time to do long tail keyword research really pays off.
But the trick (there's always a trick) is to find the right long tail keyword. When you get Long Tail Pro, the software makes it a cinch. It takes just minutes to set up, then you're off and running. The interface is easy to use. There's no need for tutorials to learn how to use Long Tail Pro because it is so simple to use, right out of the box. If you're trying to keep your options open, check out my reviews on other keyword research tools.
You can do everything you need to do with keywords with this one product. It is a complete tool. Obviously you can do keyword research. You type in a word and it generates a bunch of long tail keywords for you. You can also narrow the search by using filters.
One time saver is the fact that you can run searches on several keywords at one time. This is not true of every longtail keyword tool.
It has a very handy domain checker, so you can see if a domain with some of the matching keywords in it is available.
It also handles rank checking. You just type in the website address. The software will give you its rank on Google, Yahoo and Bing. The competitor analysis feature is helpful. It will show you the top ten search results you'd get if you typed the long tail keyword into Google.
Positives
[lists style="thumbs-up" color="#81d742″]
Everything you'd ever want in a keyword search tool
Search a number of keywords at the same time
Find the ranking for any URL in the three top search engines
Get the top ten search results in Google for any keyword
Quickly analyze your top 10 competitors for any keyword
Insert and evaluate up-to 10 000 keywords at once!
Export keyword research results
Export competition analysis
Quick set up
Easy to learn
Free 10-day trial
One-time purchase with optional upgrade of monthly subscription
Contact support via a contact form with fast responses.
[/lists]
Negatives
[lists style="x" color="#dd3333″]
It can be a bit buggy at times, I sometimes have to restart the software to get logged in to my Adwords account. The cool thing is that after I restart the software, all the data is still saved so it's a small issue.
Checking KC one by one takes too much time. I wish there was a way to 1 click all the Avg keyword competition, it would save me even more time.
[/lists]
Bottom line
I use Long Tail Pro Platinum, the one with the monthly subscription, on a daily basis. Keywords are at the heart of my business. I depend on finding the right ones to drive traffic to my sites and those of my clients.
I pick two or three keywords, pop them into the software, do a search, and end up with a list of low competition long tail keywords. After I find five to ten, I check the competition and exact match searches. I'm looking for the easiest competition possible.
I use Long Tail Platinum because I'm an SEO specialist. Internet marketing is my full time business. I highly recommend that you get Long Tail Pro Platinum if you have a lot of niche sites and if you do this type of work for clients. If you're starting out or just have a few sites of your own, the Long Tail Keyword Pro version is perfect for you.
Exclusive Discount
I have a Mozie exclusive to offer you if you think you'd like to get the software. Click this link to get a $20 discount off your purchase of Long Tail Pro.
package[/button]



Want more discounted SEO Software Specials? Simply Sign up Below.
Exclusive Long Tail Pro Platinum Bonus Offer From IMMozie.com