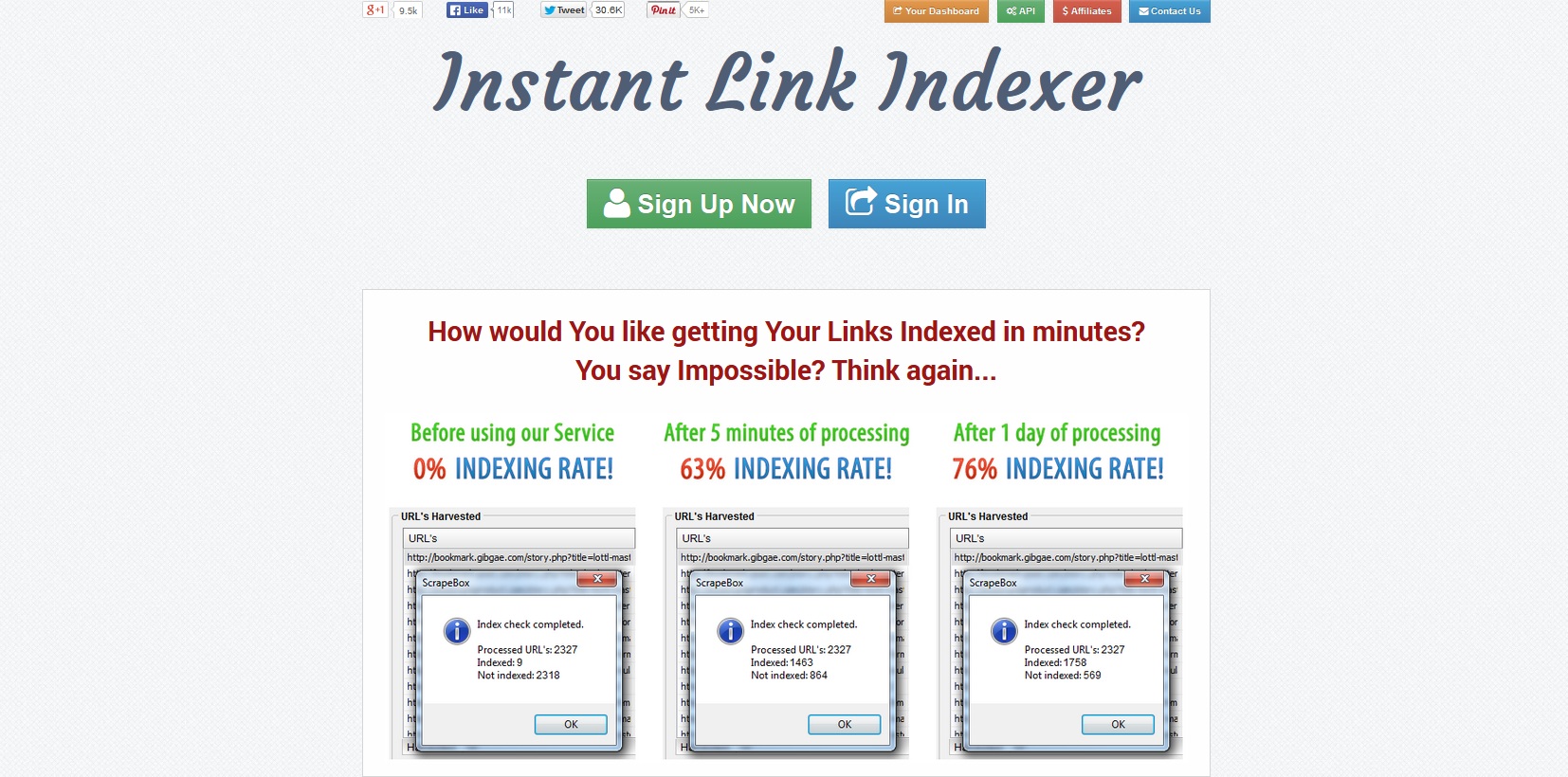 Instant Link Indexer WAS a very powerful link indexing service. 
Update for 2019:

I stopped using Instant Link Indexer because I wasn't getting a very success rate anymore. I don't think their link indexing tactics work any longer or not as well. See below for the new tested and working SEO link indexing service I'm using in 2019.

The new service I use is BulkAddURL, I'm getting an 80% success rate in October 2019. I've tried it with many types of links and it works like a BOSS! My links are almost indexed immediately after processed. But to get the best success rates with BulkAddURL.com, you need to be building quality backlinks.

Go test a few test, and come back to let me know your results. Mine are amazing. Just be careful when using it for bulk links, it's very powerful and too many links too fast can cause penalties.

With the Instant Link Indexer I was able to achieve a link indexing rate of up to 76% in just one day! I felt like had gotten something really amazing and I was stunned while watching it in action, I can index anything now with the help of this SEO software.
I have been using Instant Link Indexer service for quite some time and felt I had to let the link building community know about the results I got with them by writing this review.
I first did a test run using the Starter package for $13.77 which gave me the ability to submit 500 links for indexing per day. Since this was a test, I wanted to see how fast it could index 500 links so I submitted them and chose the option to "Submit All Links ASAP (No Dripfeeding)" although they do allow indexing drip feeding for up-to 30 days.
The drip feeding option is also quite good since you can then make all your links get indexed at a steady "natural looking" pace. After I submitted the 500 links, which were web 2.0/Article site posts which I built with FCS Networker and GSA Search Engine Ranker as Tier 2 links. An hour later, I ran the 500 links in Scrapebox to check indexing,
I was amazed! 311 links already indexed 1 hour later. I then waited another 3 hours and 400 links were indexed. This was a truly amazing result for me as I knew how powerful the system could be for my tiered link building campaigns, especially because I know how long some tiered software built backlinks can take to get indexed.
Let me show you around the Instant Link Indexer system so you can see how really simple it is to use and manage.
[section label="A Peek Inside"]
A Peek Inside
See below how easy it is to submit links and how user friendly the whole system is:
The Dashboard:
Then Navigate to Campaigns and click "+ New Campaign" as seen below.
The "Add Campaigns" Page:
 Drip Feeding Options on the "Add Campaigns" Page:
The Links Indexing Page:
You can sign up for a Instant Link Indexer account here and get your account activated immediately.
[section label="Link Indexing Rate"]
Link Indexing Rate
I've indexed all pages of my website and all the backlinks. I have tried many link indexing services but none of them have given such a high indexing rate in just one day. I guess they really do stand up to their name when they call themselves the Instant Link Indexer.
I am glad I acquired an Instant Link Indexer account, what I really loved was that it is fully automated! So once I put in the links I just forgot about it and focused on other things while the software did all the work for me. I could schedule my links for up to thirty days ahead and I did just that. I got an indexing rate of up to 80% with the most minimum effort on my part. With the unlimited campaign feature I was able to make lots of campaigns, the feature also allowed me to put unlimited links into the campaigns, the fact is mind blowing that there is no limit to the number of campaigns and URLs you add for indexing. My indexing rates did drop a bit when I started submitting my tier 3 links like blog comments and guest books etc since those are just much lower quality. But even on the lower tier campaigns I still got a 50%+ indexing rate which I think is very good. So even when building lower quality links, the service will still get backlinks indexed for you, even if they're backlinks of your backlinks 🙂
[section label="The API"]
Currently Integrated Link building Software
One of the best things about this backlink indexing service is that it can integrate with the best link building software on the market via an API. I personally use it for GSA SER & FCS Networker on a daily basis.
GSA Search Engine Ranker
FCS Networker
Magic Submitter
SEnuke XCr
Ultimate Demon
Backlink Monitor
AIO Wiki Poster
Currently Integrated Link building Services
RankWyz
Back Blasts
Backlinks Genie
Link Pushing
AutoBacklink.me
Link Pushing
Dripable
This is definitely one of the best link indexing services in my opinion. If you're running many campaigns and getting low indexing results, give the best indexing service a try. You will NOT be sorry!
[section label="Prices"]
Prices
I hope you liked my honest review of Instant Link Indexer. If you looking to get your backlinks indexed fast, trust me, you won't be sorry, get Instant Link Indexer here.
Get A Huge Bonus Package
[alert variation="alert-warning"]If you do decide to purchase an Instant Link Indexer subscription, you will be able to claim a FREE HUGE BONUS package. Click here to see the bonus packages you can choose from. [/alert]
[alert variation="alert-success"]If you already purchased Instant Link Indexer through my links and are looking to claim your FREE bonus package. Fill in this form or forward your purchase receipt to (internetmarketingmozie [AT] gmail [DOT] com) and let me know which Bonuses you would like :)[/alert]
[alert variation="alert-danger"]Please note you can only claim a FREE Massive Bonus if you purchase ANY PAID product through one of my affiliate links. You only get to choose $20 worth of bonuses from my PLR store.[/alert]
[signoff predefined="Thank for your taking your time to read this review." icon="signoff"][/signoff]