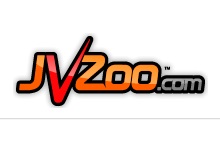 My JVZoo Review – JVZoo is an affiliate marketing platform that is extremely popular amongst top internet marketers, a increasingly popular marketplace where affiliates join for free and start earning instantly paid commissions. JVZoo is one of my favorite affiliate networks because I have been able to find the best types of products to suite my internet marketing blog.
[section label="What's awesome about JVZoo?"]
What's awesome about JVZoo?
Instant Affiliate Commissions Paid via Paypal
It is free to become an affiliate at JVZoo.
Awesome Detailed Tracking
A Wide Variety of Niches to Choose from.
Ability to add bonuses as an affiliate
there are no upfront costs for putting up products to sell in the JVZoo Marketplace
All in one marketplace for buyers and sellers
Lets take my JVZoo Review a bit further by taking a closer looking at the affiliate network.
Here's what it can offer you as a affiliate marketer and as a product seller…
[section label="Instant Affiliate Commissions"]
They Offer Instant Affiliate Commissions Paid via Paypal
No other third party seller tools are required. With JVZoo you can receive your commission instantly via paypal. If you are new to JVZoo, some JVZoo sellers may put you onto "delayed commissions".
[alert variation="alert-warning"]Please note that sellers are allowed to decide whether or not to give you instant commissions. They normally have a "notice" on their product page which says something like "to quality for instant commissions. You also need a minimum of 25 sales on JVZoo". See the screenshot below as an example.[/alert]
Below you will find an example of a affiliate product page where affiliates have to apply to be able to promote a product. The seller then can decide to accept or decline a affiliates application.
There are a few things to take note of on this page:
The sales price
Your commission percentage
Your status – in the below example, I was already accepted as an affiliate.
Additional Affiliate Info – This is where to seller normally communicates with you and gives you all the info you need about their affiliate program. It normally also contain a link to the sellers JV page if they have one where you can join the VIP JV list.
When you get to this page for a product you want to promote, you'll have to "REQUEST AFFILIATE APPROVAL" and write a short message to the seller to ask him to approve you. It's always good to introduce yourself and let him/her know how you plan to promote their product and give them links to your social profiles. This is what I did and got a 99% acceptance rate. There are certain sellers that deny any affiliates that have zero sales though, so don't feel bad if it happens to you.
[section label="Free to become an affiliate"]
It's Free to Become an Affiliate at JVZoo.
It's free to sign up as a JVZoo affiliate and once you have signed up, you can instantly start search for top selling products in a specific niche and request for affiliate approval. Once approved you can start promoting products, making sales and earning instant commissions.
If you're ready to start your journey as an affiliate marketer at JVZoo, you can click here to sign up as an affiliate. If not, read on and see if it's for you.
[section label="Detailed Tracking"]
Awesome Detailed Tracking
One great feature of JVZoo is their statistics and tracking. Since they offer tons of products to promote and so many new products being launched by this increasingly growing affiliate network, detailed tracking was a much need and very helpful feature.
Here you can see below some screenshots to get an idea of what details you have access to as an affiliate.
Detailed tracking and statistics for JVZoo affiliates: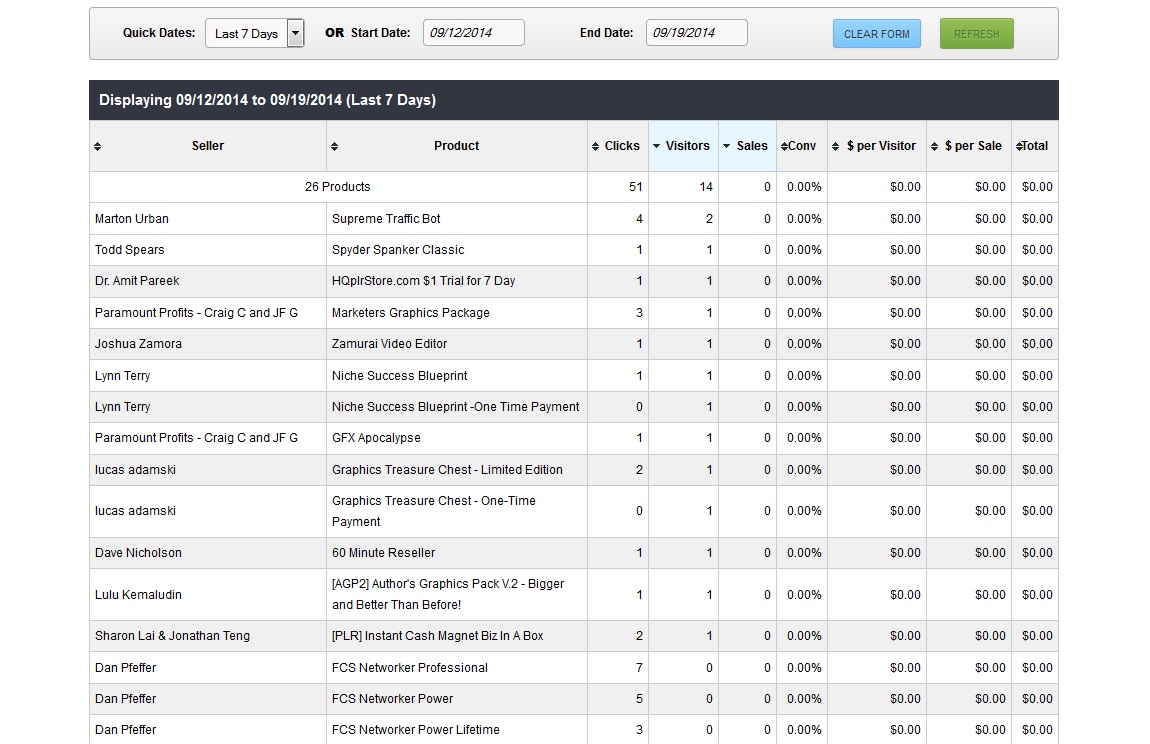 You also get daily stats of today and your previous days clicks, visitors and sales. This detailed set of stats applies to affiliates and sellers.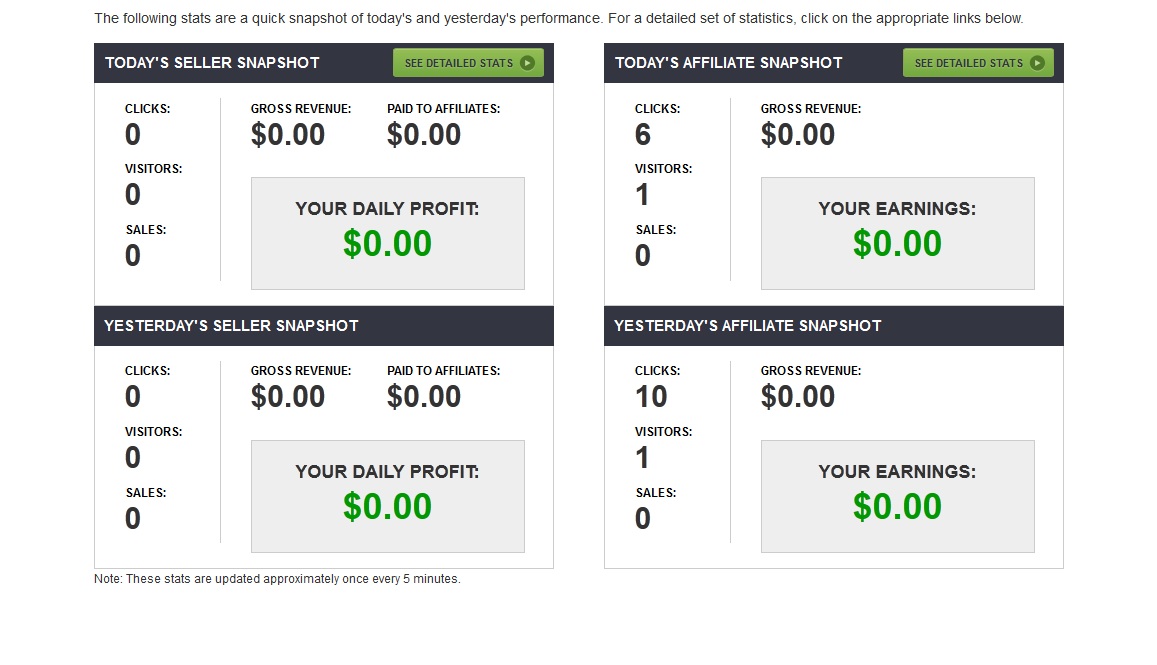 [section label="Wide Variety of Niches"]
A Wide Variety of Niches to Choose from.
The JVZoo Affiliate Marketplace offers a wide variety of niches, this makes it possible for affiliates to promote tons of products in many niches. Sellers also get the opportunity to create new products in any of the niches available. The JVZoo network is a good choice if your looking for a Internet Marketing Affiliate Network where you can start earning commissions without much start up cash to invest. You can simply choose a niche, setup a self hosted WordPress website and start promoting your favorite high converting offers instantly.
Here is a snapshot of the current categories: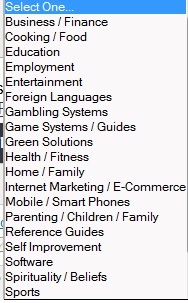 Remember that this list is without the "Sub-categories" and there are many.
[section label="Great Tools for Affiliates and Sellers"]
Great Tools for Affiliates and Sellers
Tools for affiliates:
Searchable Affiliate Marketplace
Complete sales funnel cookies
Two Tier Affiliate Commissions
Instant Sale Notifications
Automatic Bonus Deliveries
Check the screenshot below and see how easy it is to add bonuses to the affiliate products you're promoting.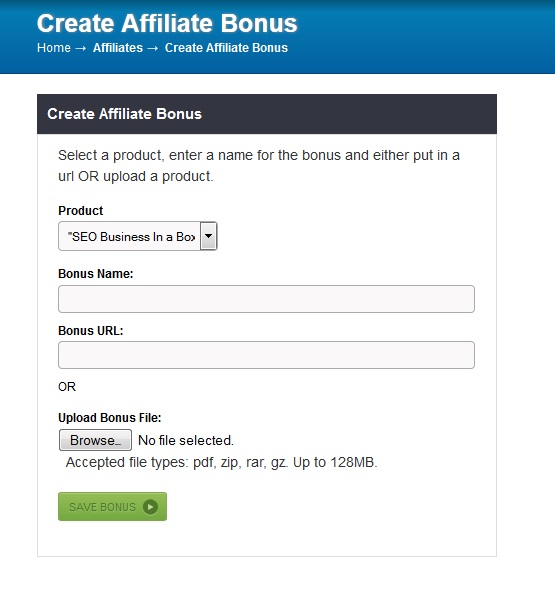 Tools for sellers:
Tracking & Statistics
JV Profit Sharing
Stylish Button Creation
Digital Delivery and Protection
Instant Sales Funnel Generator
Instant Sales Page Generator
Lifetime Cookies
Instant Dime Sale Technology
Instant List Building Technology
Instant Affiliate Program Setup
Ad Manager Plugin/Widget
[section label="No Upfront Costs For Sellers"]
No Upfront Costs for

Sellers
There are no upfront costs for putting up products to sell in the JVZoo Marketplace. They only take a small percentage of each sale you make.
[section label="How to Sign Up at JVZoo.com"]
How to Sign Up at JVZoo.com
It's very simple for affiliates and sellers to sign up at the JVZoo Network and its completely free.
When you sign up at JVZoo, you get a affiliate account and a seller account in one. All you have to do is sign up on JVZoo.com.
Just click the link that applies to you and follow the easy instructions and you be ready to start earning right away.
[section label="Bottom Line"]
Bottom Line
JVZoo is a must for affiliate marketers, the possibilities are endless. If you're good at generating targeted traffic and already have a list. Then I believe you can make good money promoting JVZoo affiliate products and can start earning instant commissions! The system they work with also makes it easy to start selling your own products as a "product creator/seller" because there are no upfront costs. I do however recommend by starting out with promoting high converting offers and making relationships with the sellers of products you wish to promote. I highly recommend JVZoo for newbie affiliate marketers looking for a place to start making money from affiliate marketing.
Exclusive JVZoo Bonus Offer From IMMozie.com