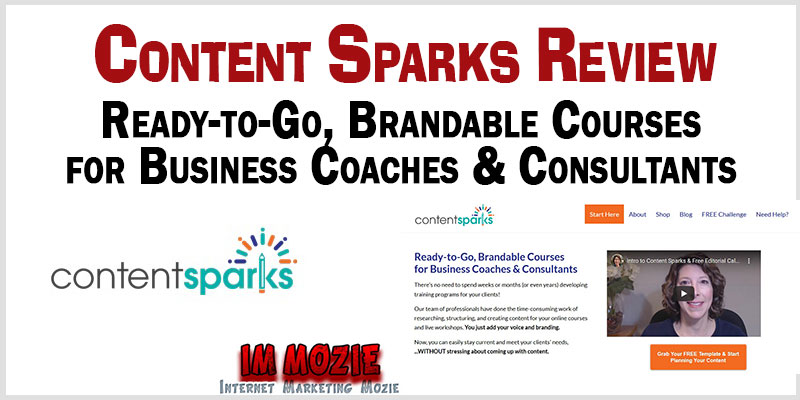 What is Content Sparks?
Content Sparks was created by the Queen of the Online Course, Sharyn Sheldon. She earned that nickname by consistently producing high-quality courses and training material for small businesses, Fortune 500 companies and entrepreneurs like yourself. She has spent more than 25 years as a content creator, and she is admittedly "fanatical" about producing well-written content.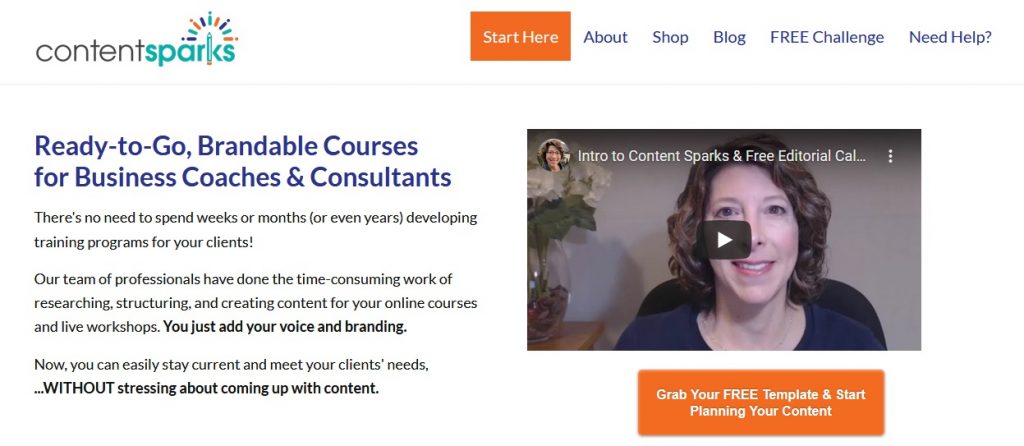 This means you get quality done for you courses, rebrandable course content and business coaching PLR. As a training consultant, she provides customizable PLR course content you can use to build and grow your business.
The site was created in 2010. As Sharyn says, she wanted to present "… a solution for enlightened business coaches, consultants, and educators" that need high-quality content to help their customers and clients. She understands that as a busy entrepreneur, you never seem to have the time to develop enough good content for your business.
To fix that problem, her team of professional writers creates brand-new business coaching PLR and done for you courses each month. You can use this material to generate leads, build your email list, and turn one-time buyers into repeat customers. All of the content at Content Sparks is rebrandable. So you can customize it to reflect your unique signature and brand.
I have purchased a lot of content from Sharyn. I will continue to do so in the future. I wrote this Content Sparks review to let you know why I believe this PLR website is one of the best in the business.
Let's take a closer look at this private label rights content site (as well as the free challenge Sharyn gives you that walks you step-by-step through turning her PLR content into your own branded online course in 10 days or less).
Who Are the Content Sparks PLR Business Courses Right for?

The best way to illustrate whether this site is good for you or not is to look at its site's mission statement.
"To give you professional quality, results-focused content that will put your expertise in the spotlight, so you can attract new leads and build lasting relationships with your customers."
The private label coaching content you get here is high quality. When she says that her PLR business courses are "results focused", she's right. Unlike a lot of PLR out there that just delivers information, there are action plans and step-by-step instructions included with this content.
In other words, your clients are shown exactly how to do something, as well as what to do. This happens because Content Sparks has specific guidelines they follow when they develop anything they put up on their website. Here are a few of the content creation guidelines Sharyn insists her writers and content creators follow.
End-users must be able to take action. They have to come away from the content having achieved very specific goals.
The content should be adaptable because people learn in different ways. Some prefer to read while others like to watch videos or listen to audio. The courses you get from Content Sparks can be adapted to any learning style.
Training programs must be modular. This means you can move the modules and lessons around and deliver them as standalone pieces or as one big product.
All content should be evergreen whenever possible. Content is upgraded regularly to keep it fresh and relevant to current market needs.
All content should deliver massive value for the purchase price.
As a long-time customer of Content Sparks, I can tell you that all of the above guidelines are strictly adhered to. This is truly high-quality content. You won't be finding spelling and grammar errors. The content flows and reads easily. There are graphics, images and slideshows that were professionally made.
The brandable coaching courses and other business coaching PLR content help create a sense of professionalism for your business. This is not your typical PLR content website.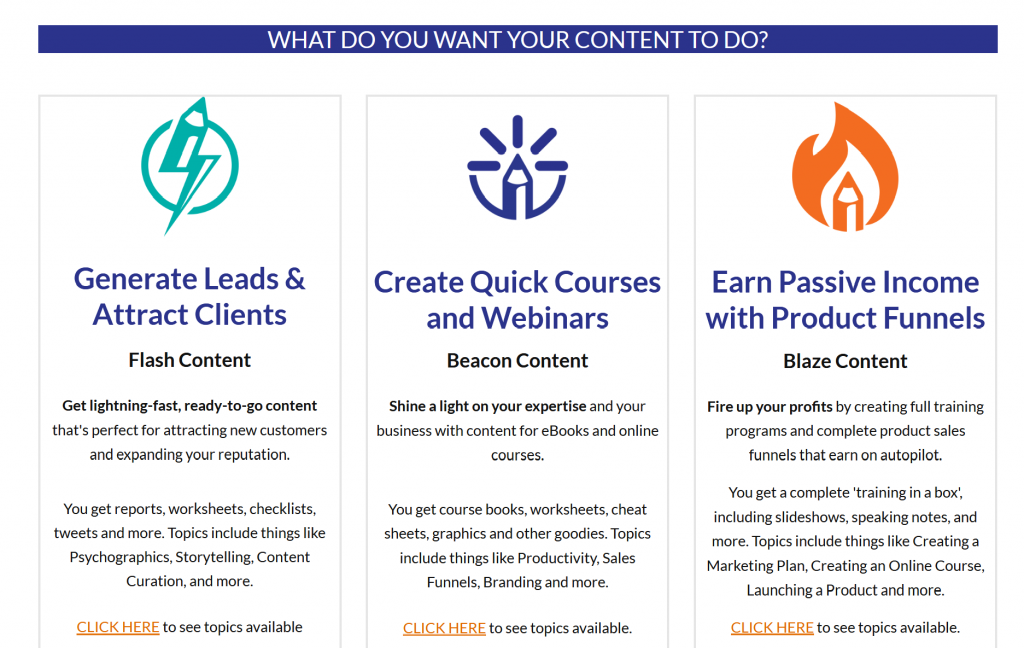 So, if you want done for you PLR course material that is of the highest quality, this is definitely the right place for you to shop. If you're a business coach, life coach or consultant that trains and teaches others, I know you'll love this content. To give you more of an idea if this is the right PLR store for you, let's take a look at what topics and niches you can expect to find there.
Exploring the Content Sparks Business Coaching PLR Library – What Niches are Covered?

The website is simply laid out. It's not confusing and there's no clutter to distract you. It's easy to take a look at the topics the website covers. Click the following link.
Then look at the top of your screen. Hover your mouse over the "Shop" button. You'll see that the content is divided into 3 major sections.
1 – Business
2 – Professional Development
3 – Sales and Marketing
Business is broken down into Management and Planning. Professional Development includes Business Skills, Coaching and Productivity sections. The Sales and Marketing section of the website covers Affiliate Marketing, Blogging, Branding, Content Marketing, Customer Service, Email Marketing, Lead Generation, Sales, Social Media, Strategy, and Video Marketing.
If you have clients that want to learn email marketing, Content Sparks has plenty of rebrandable course content that teaches every aspect of marketing through email. The private label coaching content on the site can teach your customers how to build a blog, become a successful affiliate marketer or use video marketing to build their businesses.
You might be in some health and wellness industry or a dating and relationship niche. Your market doesn't really matter.
If your job is teaching others to build some type of online presence, the done for you courses at Content Sparks can help. If you're a teacher, trainer or coach, I know you'll find this content valuable.
What Types of Products Are Offered?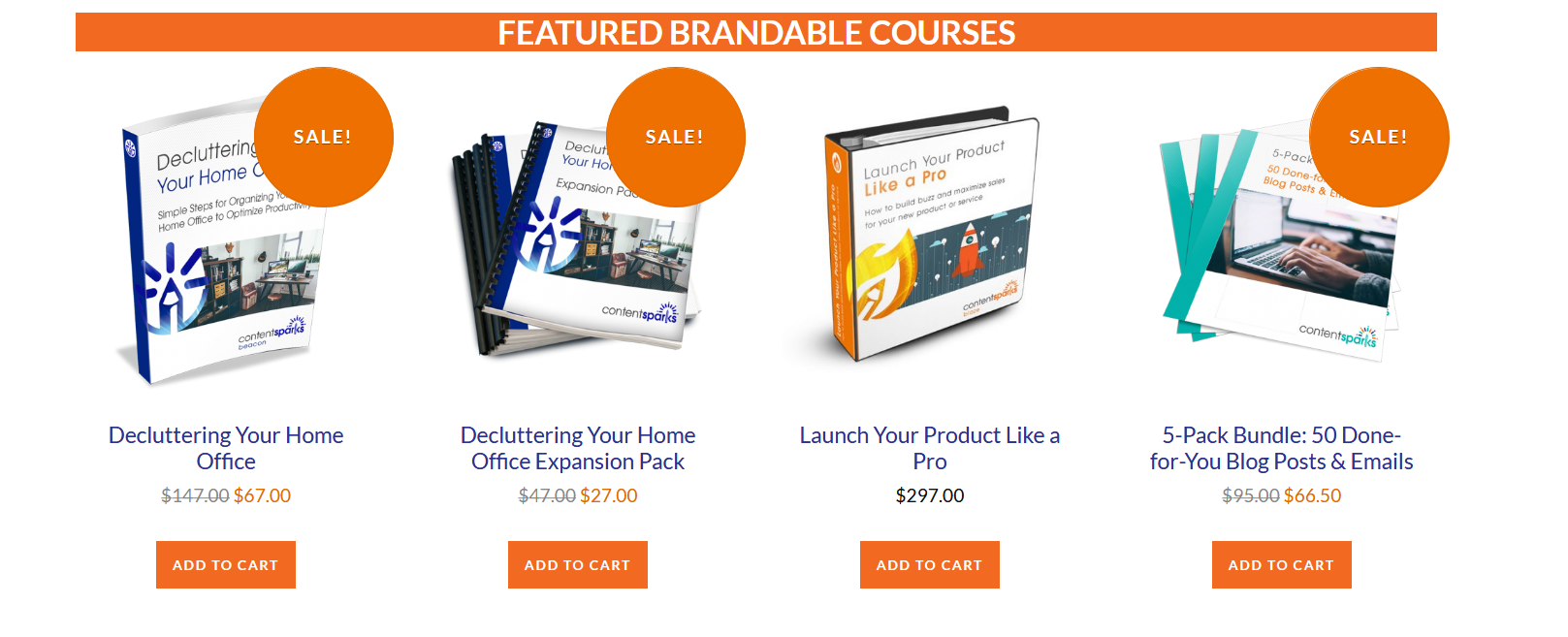 The main type of product offered is the complete business course. Consider this a business-in-a-box. It contains everything you need to teach your customers an entire course that centers around one subject.
As an example, let's take a closer look at the Content Sparks Content Management Bootcamp course. Here's everything you get.
A 12-module content management course.
A 54-page self-study e-book you could also use as an online course.
An Action Guide with worksheets so your students can take action and create results.
20 colorful graphics that illustrate key points. Use them to visualize content or create a slideshow.
A 35-page course overview that can be used as a quick reference versus having to refer to the 12 content modules.
A content inventory spreadsheet to help your students achieve their content marketing goals.
A 3-month content calendar for planning and taking action.
Content Management Bootcamp overview infographic so your customers can learn visually.
A slideshow presentation of 159 slides. Use them to run a webinar or post an online classroom workshop or create videos.
Handouts of the presentation slides.
A full script for presenting the course.
5 course follow-up emails
An implementation guide that gives you instructions and ideas of how to present the content to your students.
An evaluation form so you can collect customer feedback.
A list of the course research sources.
An opt-in report for building your email list and 7 follow-up emails.
An opt-in slideshow and opt-in cheat sheet for reaching more prospects.
5 blog posts and 30 Twitter tweets to build awareness of your course.
A Boost Your Content Marketing Results with These 4 Steps infographic for generating awareness and driving traffic.
Look at all of that content! There are over 250 pieces of content and that package. This is typical of an entire course package you'll find on Content Sparks.
Just one package can be turned into an entire business. By the way, the packages are professionally created. They instantly make you look like an industry leader and improve your reputation and image in your market.
The full brandable coaching courses are not the only type of product sold on the website. You can also purchase short reports, article packages, e-books and other PLR products.
How to Get Your Free Content Planning Template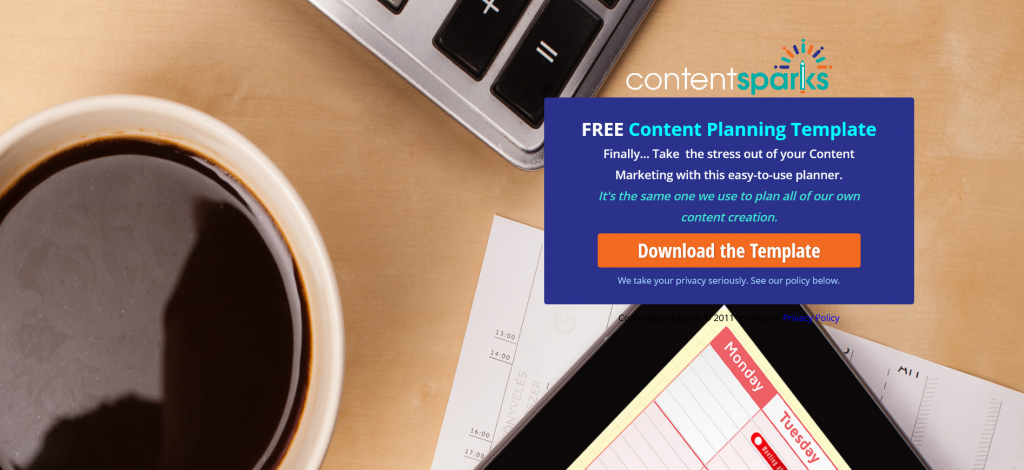 There's an old saying that states, "If you fail to plan, you're planning to fail." What I'm trying to say is that you need to plan your content creation and delivery. Content Sparks wants to help. One thing I like about this website is, aside from delivering high-quality PLR content, they'll give you a Free Content Planning Template as well.
When you click that link, at the top of the right-hand side of your display you'll see a video play box. This is your introduction to Content Sparks. Just below the video you'll see a button that says, "Grab Your Free Template and Start Planning Your Content".
Click that button and get your free download. It's as easy as that. You're under no obligation. The handy content planning template is absolutely free.
How Much Does Content Sparks PLR Course Content Cost?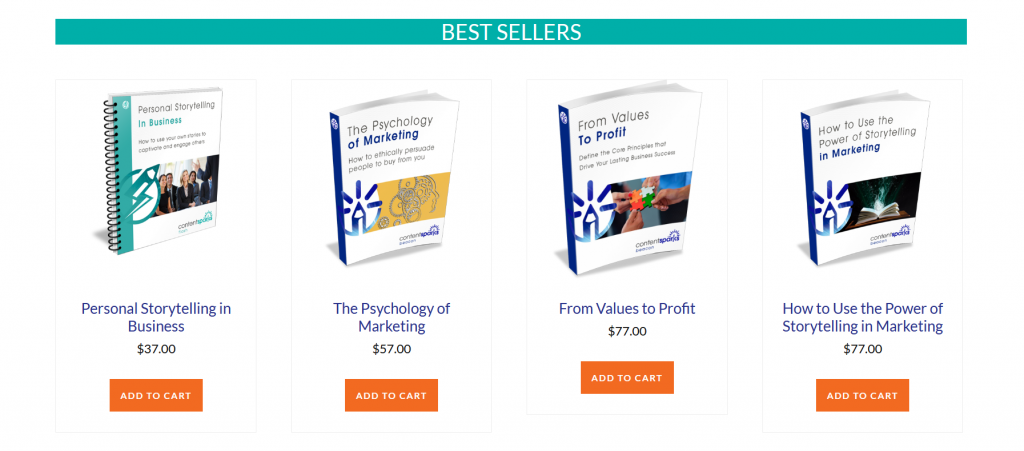 This is definitely not a low-end, low-quality, cookie-cutter PLR website. You get the highest quality content. That means you're going to pay more than you would at a PLR site that employs cheap writers and content creators.
A complete done for you course with all the components I listed earlier will cost between $147 and $297. Smaller bundles, packages, e-books, newsletter sequences and article packs are priced between $37 and $147.
Content Sparks often puts its products on sale, so it pays to browse regularly.
Content Sparks Brandable PLR Business Courses Review Summary
I recommend this PLR provider highly. Sharyn is a stickler for detail. She absolutely will not allow low-quality or even average-quality content on her site. This means you get the highest quality PLR course content.
Get signed up for the free challenge and download your free content planner. Take action and put them to work. Then browse the content shop and get your hands on some of the best brandable coaching courses and business coaching PLR anywhere online.
Exclusive Content Sparks Bonus Offer From IMMozie.com