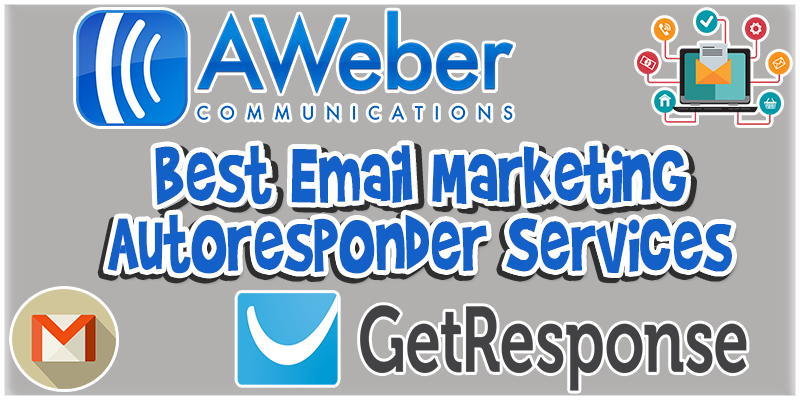 Best Email Marketing Autoresponders For Affiliate Marketers
Email marketing has long been proven to be an effective marketing tool, helping businesses reach out to thousands of their customers at once with information on prices, offers, products etc. Every affiliate marketer, small business owner, blogger or internet marketer looking to drive more sales knows that email marketing is the channel they should use.
But to make the most out of your email based marketing and engagement campaigns, you need the best email marketing service, complete with email automation, email autoresponder tools and email newsletter services. The trouble lies in identifying the email marketing service that fits the bill.
As of today, there are more than 20 different email marketing services of repute to choose from, for any of your marketing campaigns. Each is touted as better than all the others, with some claiming to have the highest click and open rates.
With all these email marketing platforms to choose from, how do you pick the best email marketing service with the best autoresponder service for your website or business's needs?
Factors To Consider Before Choosing An Email Marketing Service
While most email marketing services come with the common necessary features, there are factors you should look out for when choosing the best email marketing platform to go with.
Pricing
All email marketing platforms come with recurring payment subscriptions with options for monthly, yearly and quarterly payment. The prices charged by different email marketing services differ in range from low to high, depending on the features provided. A good marketing service should be priced affordably in relation to the number of email addresses it allows.
Free Trial Option
Before you agree on a particular email marketing service, find out if it has a free trial option for limited number of days. Free trials help you test the service's functionality before signing up with access to every feature on offer.
Usability
This has a lot to do with navigation, the user interface and other functional features. Determine how easy it is to do some tasks such as importing contacts to your sender's list, creating a template, managing email autoresponders, scheduling broadcast messages etc. before making a choice. Some email marketing services are easier to use by beginners while others require advanced knowledge of operation.
Integration With Third Party Services
Your email marketing campaign may necessitate integration with other apps and services to enable people to log in, pay for products, share content or enable you import information from somewhere else. For such purposes, you need an email marketing service that allows third party integration with most apps, especially those you use directly.
Templates
Look out for an email marketing service with a good number of beautiful and versatile templates, especially if you don't have the time or know-how required to create your own templates from scratch.
Customer Service
Starting out on an email marketing campaign isn't easy. You will need an email marketing platform that will have experts on the line to respond to your query with a solid answer every time you get confused. If a service doesn't answer calls, doesn't reply to queries or delays to get back to you, ditch it quick!
Below are reviews of some of the best email marketing services available to choose from.
Aweber (I Use This)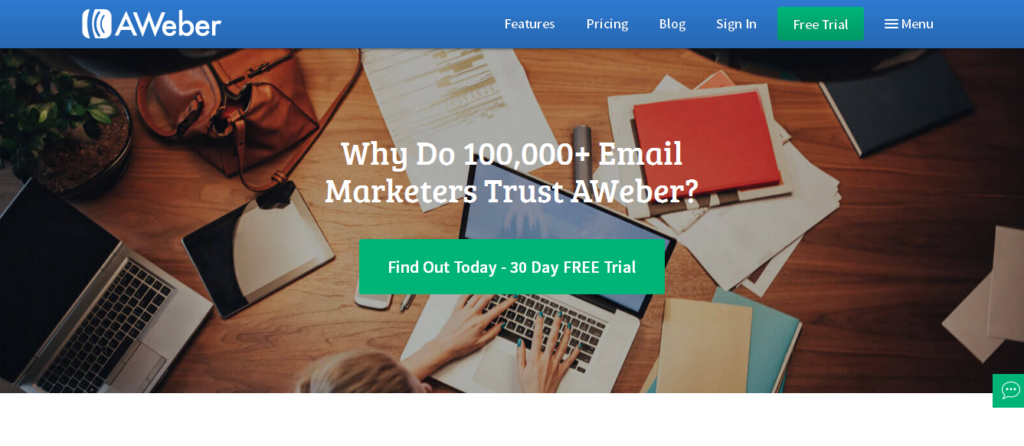 With over 12000 active customers ranging from small businesses to website owners to prominent affiliate marketers, Aweber is undoubtedly one of the best email marketing tools available today. To prove the point further, many users constantly single out and vouch for its simplicity, functionality, great features and award winning customer service.
The Good Parts
Easy Usability And Navigation
Right from its homepage, the Aweber website strikes with its simplistic design and clean user interface that eases navigation. Its clear arrangement of the List, Messages and Subscribers sections makes it easy for even beginners to use as are its bright contrasting buttons and call-to-actions.
Functionality
It also comes with great email marketing automation tools, allowing you to schedule activities such sending out autoresponders for future dates with ease. Its usability extends through to the options it avails you for creating email newsletters for your marketing and engagement campaigns.
You can opt for one of its many customizable templates and edit it using the drag and drop email builder. If you are okay with code, you can go with either WYSIWYG or editing the HTML. But as its not only emails with images that have high click and open rates, Aweber also gives you the option of creating a text only message too.
Wide Selection Of Templates
Aweber comes with over 500 customizable templates for you to choose from, depending on the kind of email you are sending out. This is especially important for marketers without the time or skill of designing outstanding templates on their own. The platform also allows for complete customization of its templates, especially for those who can work with code.
Easy Importing Of Contacts
Aweber has an efficient system that allows for importing of your contents from an already existing mail list, when you sign up and start generating anew subscriber list. Recent updates have seen some concepts done away with, such as the reconfirmation email sent to your subscribers once you import the contact list. The platform allows importing of data from a wide range of file types including XLS, XLSX, TSV, CSV and TXT.
Third Party Services Integration
Aweber allows for the integration of over 100 popular third party apps and sites without the hassle most email marketing services come with. Examples of supported platforms include Facebook, Paypal, WordPress, LeadPages, Amazon Payments etc. This feature backs the platform as one of the best email marketing tools for internet marketers and affiliates, whose business model involves exchange of funds.
Technical And Live Support
Both technical and live chat support are offered to Aweber customers as soon as possible. Aweber's support team operates from 8 am to 8 pm ET on weekdays and offers toll free phone support for US residents. For more communication, they also have email and live chat options, with the latter taking place within the website.
Split Testing
Testing your emails on your data to determine the better performing one is a walk through with Aweber's set of spit testing tools that allow you to test up to 4 versions of email newsletters before sending.
Autoresponders And Scheduling
Aweber's autoresponder feature is one of those really efficient email marketing automation tools every internet marketer should have. It allows you to schedule the sending out of a series of messages to subscribers depending on their latest activity. It could be signing up, opening an email or clicking on a link. On many fronts, Aweber's is easily one of the best email autoresponder services out there.
Pricing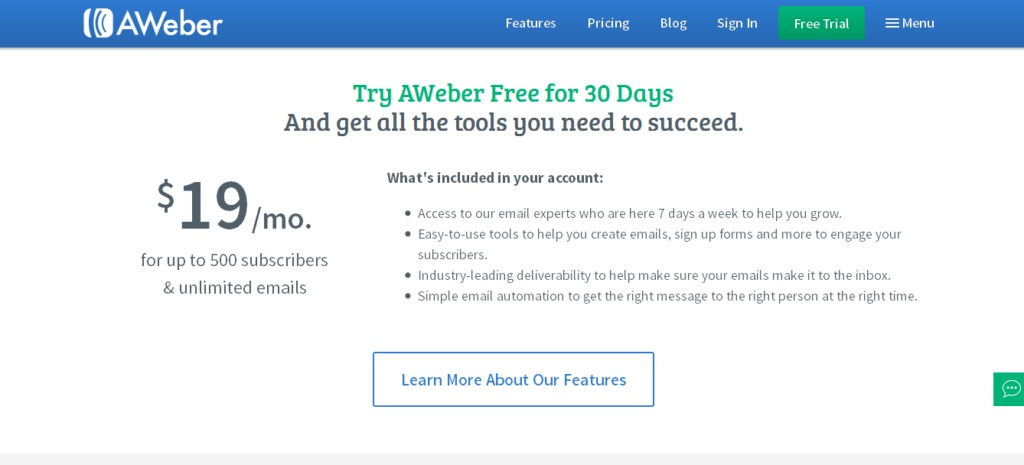 Aweber's price plans are quite affordable when compared to other email marketing platforms, with their basic pricing coming in at $19/mo. for up to 500 subscribers and their highest pricing averaging $149/mo for up to 25,000 subscribers. In between, Aweber charges $29/mo for 2500 subscribers, $49/mo for up to 5000 subscribers and $69/mo for up to 10,000 subscribers.
2020 Update: Aweber now supports landing pages within the tool. I love it!
Those with 25,000 subscribers or more have to request a special price quote instead. The service also has a free trial for 30 days with access to all features for those looking to dip their toes in first before subscribing.
What We Didn't Like
Requires credit card details even when signing up for free 30 day trial.
The platform still requires one to confirm the source when of a contact list when importing it, unlike other email marketing services which allow seamless transfer.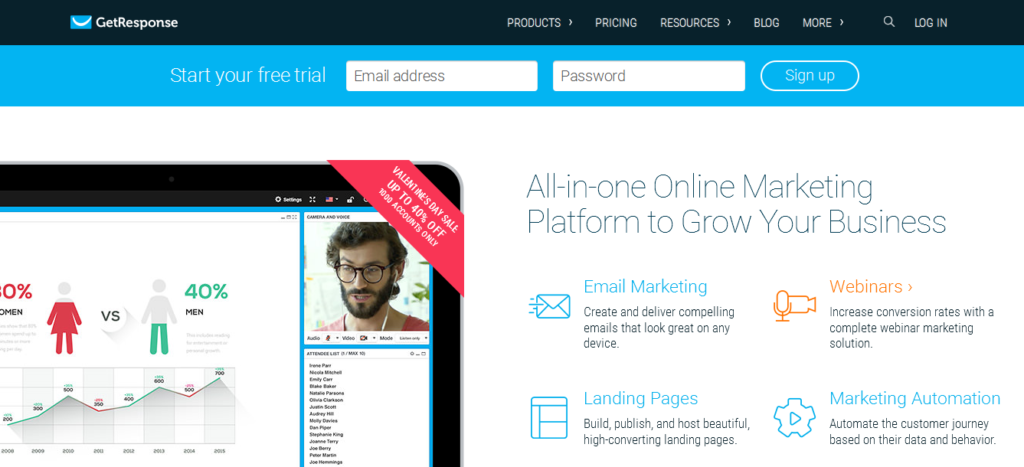 As one of the most used email marketing platforms around the world and with over 350,000 active customers, Getresponse is easily one of the best email marketing services for affiliate marketers and small businesses, thanks in part to its unique features and affordable pricing.
The Good Parts
Beautiful Templates
Over 700 customizable email newsletter templates designed to fit various situations are provided to you for tweaking by Getresponse as you work. They also happen to be very responsive on various devices, which is a plus when you consider that Getresponse has the best preview feature during email design, allowing you to see how the email will translate on various devices.
Split Testing
Getresponse puts the ease in A/B split testing for your email marketing campaign to determine which emails might perform better based on data. It allows you to choose an A/B split test on either the subject line, from field, content or delivery time with 5 variants allowed for each. You can also choose to have the best performing email sent out automatically after the test.
Importing Contacts
With Getresponse, moving contacts from existing lists to your new list is a seamless task that doesn't take long. So is shifting from another email marketing service, wherein you don't lose your contacts in the process. The service also allows importing contacts from email clients such as Gmail and accepts data from files including CSV, TXT, VCF, XLSX and ODS.
Pricing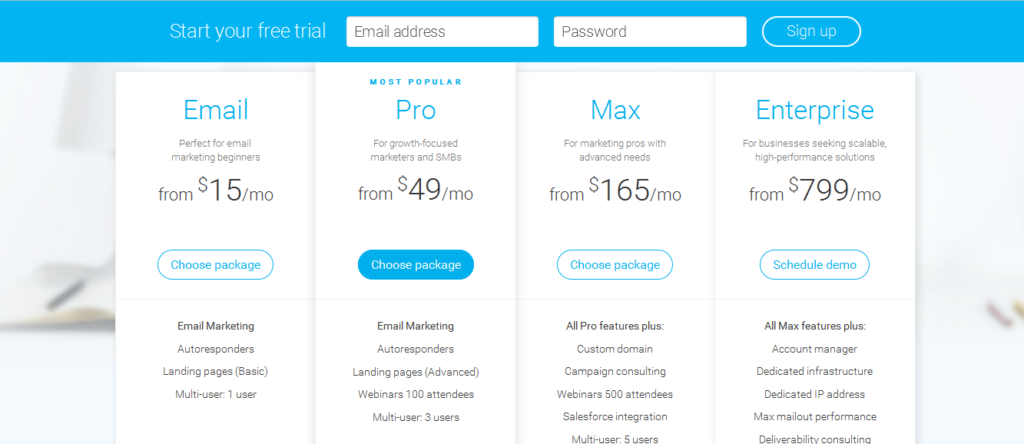 Getresponse's pricing plans easily brand it as one of the best email marketing software for small businesses, mainly because they are affordable. The service offers four price plans to choose from, including Email, Pro, Max and Enterprise. Email is designed for beginners, starting at $15/mo* for 1000 subscribers.
Pro comes in at $49/mo* for 5000 subscribers, while Max, which is designed for marketing pros with advanced needs starts at $165/mo* for up to 10,000 subscribers. The biggest price plan is the Enterprise plan, which comes in at $799/mo* or 100,000 subscribers with the option of quote discount request provided.
Represents a regular price, without special offers or limited time discounts. With discounts and offers, the fee may vary.
Third Party Service Integration
To the advantage of marketers, affiliates and small businesses, Getresponse allows the integration of over 100 party services and apps including WordPress and PayPal. Various social media platforms are also integrated, adding to the pleasure of using all your apps in one place.
Scheduling
Sending out emails to your customers across different world time zones is easier to manage, thanks in part to Getresponse's intuitive scheduling tools. The platform comes with two options: 'time travel' and 'perfect timing'. The former schedules emails to be sent at the recipients' local time, while the latter schedules emails to be sent out to recipients at the times they are most likely to click and open them. Both options ensure that your customers gets to see your emails and choose whether or not to open them.
Auto Responder Function
As one of the three forms of messages this email marketing platform allows you to create other than email newsletters and RSS feeds, Getresponse's email autoresponders happen to be some of the top email autoresponders in the business, in comparison of efficiency and open rate.
They come with 5 generation triggers including the 'time based' for specific times of the day, ' clicked' for when someone clicks on one of your email links, 'opened for when someone opens one of the emails you send', 'subscribed' and ' goal reached' options.
They are designed to keep your subscribers in the loop with constant engagement even when you are not around. You can choose to create a series of autoresponders basing on any of the five situations, create a new message, test it and schedule it on a calendar.
Creation Of Landing Pages
Unlike many other email marketing services, Getresponse actually provides over 100 landing page templates to choose from and customize, spending on your website. Customizing them is just as easy; it uses a drag and drop editor and doesn't require extensive knowledge of coding or HTML.
What We Don't Like
The Cost Of Having Landing Pages
Landing pages come with every Getresponse plan but with some limitations. Users on the basic plan can only create one landing page, which in turn works for only 1000 subscribers. To access limitless landing pages and squeeze pages, you need to subscribe to a higher price plan.
Lacking Customer Service
While they might have great features in their email marketing platform, their customer service is not something to write home about. They are notorious for providing late replies to queries and lacking a thorough customer support system.
Interface And Usability
Getresponse's interface appears to be tacky right from the home page with poor alignment of features, making for harder understanding and navigation. Their vocabulary can also get confusing; they refer to subscribers as contacts and lists as campaigns.
Click here to check out Getresponse
Exclusive Email Marketing Autoresponder Service Bonus Offer From IMMozie.com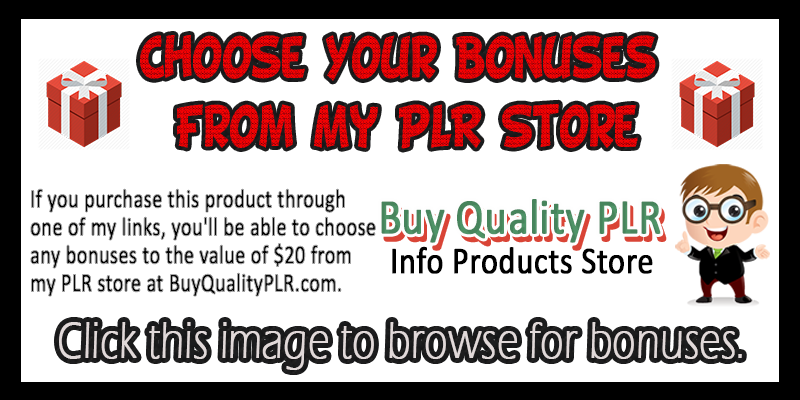 ---