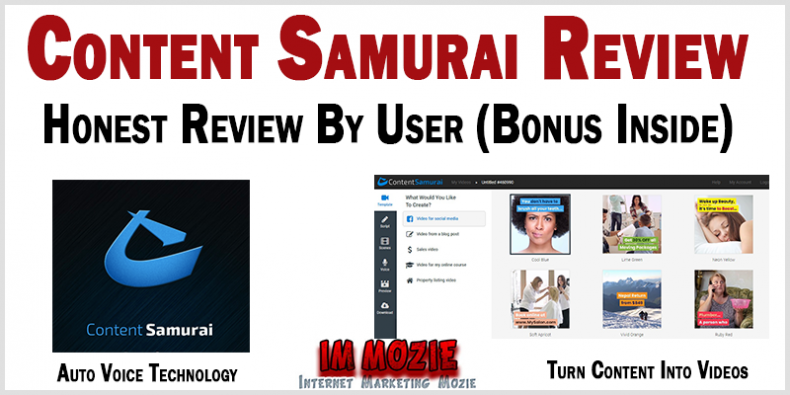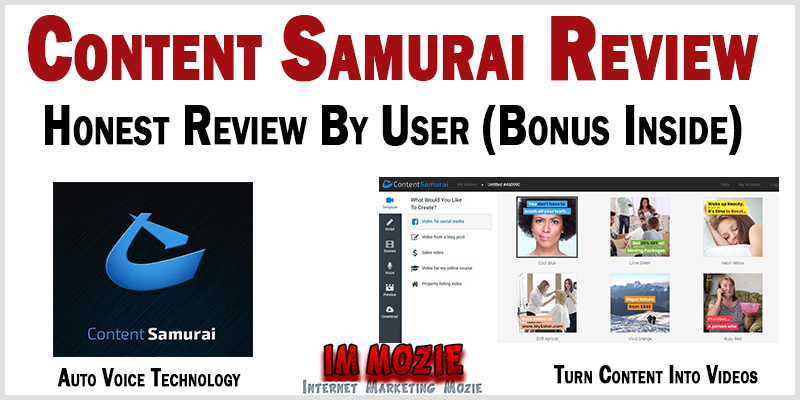 Overview
Item Reviewed
Content Samurai text to speech app
April 20, 2020
User Friendly
Yes very easy to use and create awesome-looking videos in minutes
Features
With the push of a button Content Samurai reviews your script, cuts it up into professional slide layouts and formats your text. The bones of your video are formed in seconds.
Content Samurai analyses your script and intelligently suggests the perfect images for your video from a library of over 112 million quality images.
Powered by cutting edge text and voice matching technology Content Samurai automatically edits your video from beginning to end with a single click. It's video creation at the speed of thought.
Auto Voice option is one of my favourites because I don't need to talk and they auto-voices reads out my article and it gets recorded into the video automatically.
One Time Fee or Subscription
Subscription
Price
7 Day Risk Free Trial
$47 a month after (You get a good discount if you grab it through my link)
$397 per year
Positives
It's very easy-to-use
You can quickly turn articles into videos with a few clicks
The videos created look awesome
There's a free trial so you can try before you buy
No need to show your face
No need to record with your own voice
Affordable Price
Quick video creation tool for creating YouTube marketing videos for traffic
Regularly updated with new features and video assets
Can automatically read your videos text using auto voice technology
Negatives
The auto voices could be a bit better
There's no lifetime option for the software
You still need to edit the videos slightly to make it how you want it, so it is not fully automated at creating videos
Full Review
My Honest Content Samurai in 2020 – Is it the best article to video maker?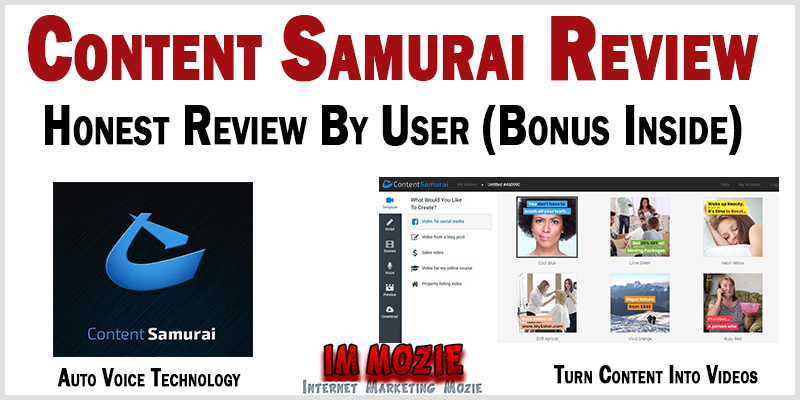 What is Content Samurai?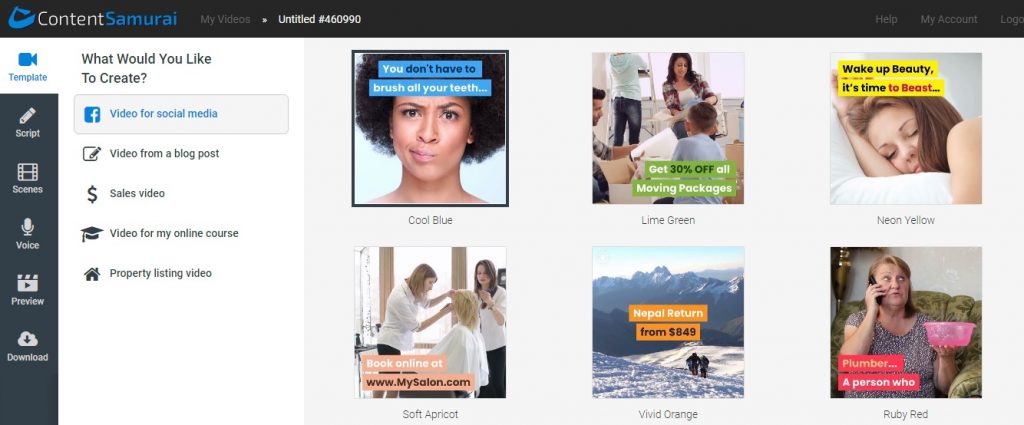 Content Samurai is an online video creator software (application) that helps you create fast, easy and professional-looking videos within minutes. It allows you to insert articles into the software and it automatically creates a good-looking video using the text from the article you inserted. It can also add great images, video backgrounds and even text to speech voices.
Content Samurai promises that you can "Create Stunning Videos Fast" with their app. You can use Content Samurai video creation software to turn articles, blog posts and shorter pieces of content into videos in minutes, or so the creators claim. I've spent a lot of money having freelancers create videos for me, so I figured I would give Content Samurai a shot.
What Is the Content Samurai Free Trial?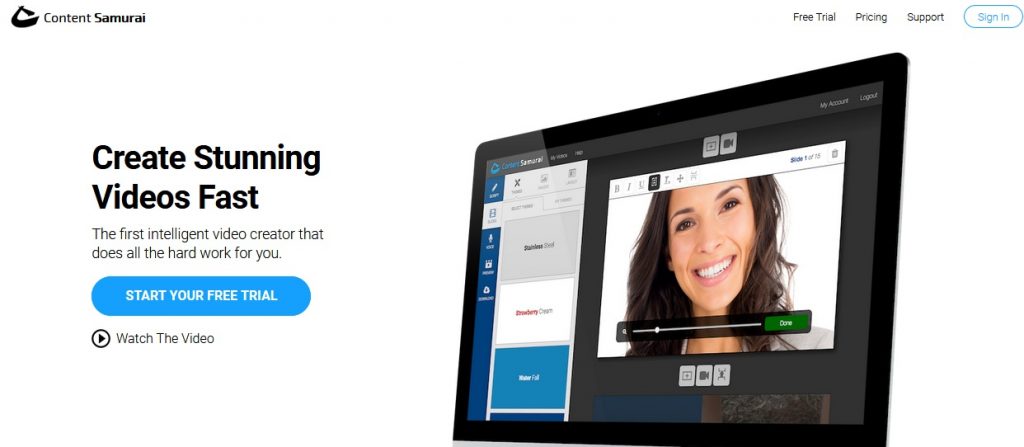 The monthly fee for a paid membership was within my budget, but I tried something else instead. The creators of this software will let you test-drive their product for 7 days without paying a penny.
I love getting free trials on software, applications and courses before I spend any money, so I signed up. Here's what I was pleasantly surprised to discover.
A lot of online courses give you a trial period for free. That's the case here. However, many programs or courses only give you a watered down version of the software. That is definitely not the case here.
I always get a really good impression from companies that let you try their full product for free. This tells me something, it tells me that Content Samurai are confident in their product which is a good thing.
And then there's this.
During your free 7-day trial period you can create as many videos as you like. That's right, make as many videos as you can crank out. And here's the great part. After that free trial period is over, even if you don't pay the monthly fee for more content samurai features, you get to keep every one of those videos.
This was a no-brainer decision maker for me. I got a full week to decide whether I wanted to become a paying member. I made a few videos using the automatic text to video software and I must admit I was surprised.
The software quickly turns articles and other content into videos. It's a simple process (I like that since I'm not the most tech-capable guy). More importantly, I got videos ranking high for my target keywords!
Those videos were only up on YouTube for a few minutes before they started ranking high in Google.
But I'm getting ahead of myself. Let me walk you through what happens when you sign up.
Signing Up – How to Use Content Samurai
Sign up for free with your best email address. You don't need to register a credit card, which I really like. You're immediately taken to a "Welcome" video. You also receive a "Welcome" email.
Don't go to your email yet. Watch the video that pops up. (You can also click on "Watch later" if you don't have the time right now.)
This welcome video explains that you can make an unlimited number of videos.You can keep them forever and use them however you like. You are told about the email you receive that contains step-by-step instructions and more video help introducing you to this automatic video maker software.
After the short video, head over to your email inbox. You receive a welcome from one of the software's founders, Anthony Fernando. Click on the provided link to create a password and get started.
I like that the video was only 5 minutes long. You can stop the video whenever you like if you need to. You can also view this video directly from the Content Samurai website, or watch it on YouTube.
It doesn't matter if you have never created a video before. (I hadn't.) Follow the how-to, step-by-step instructions and you can create a video in just a few minutes.
You're told to click the blue "Create a New Video" button at the upper right corner of your dashboard. Then you go through a 4-step process.
The first step is easy. (They all are, actually.)
Step #1 – Browse the video templates and select one. Choose from the following options and grab the template you like.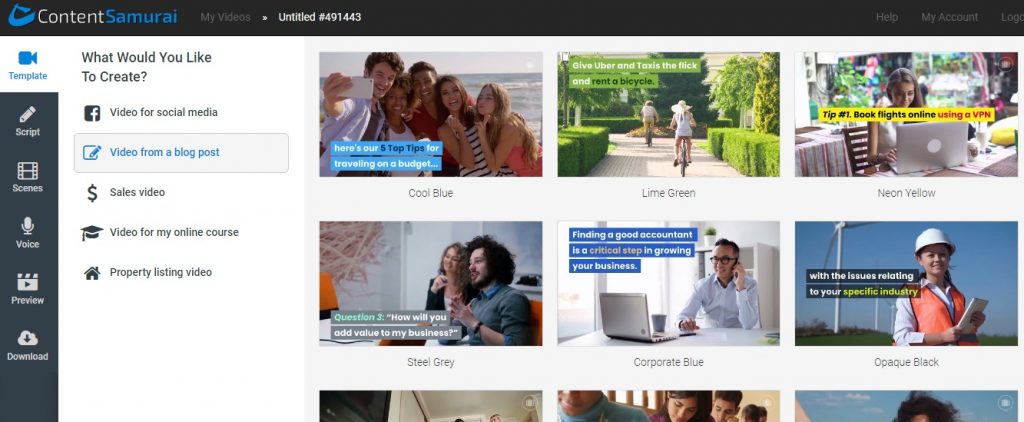 You can create a video for social media sites like Facebook and Twitter
Make a video from an article or blog post
Create a sales video
Make videos for an online course
Whip together a professional looking property listing video
The narrator chooses to create a social media video, then selects a template. Once you figure out what template you're going to use, just click on the big button that says "Use This Template".
Step #2 – You are taken to a "Script Screen".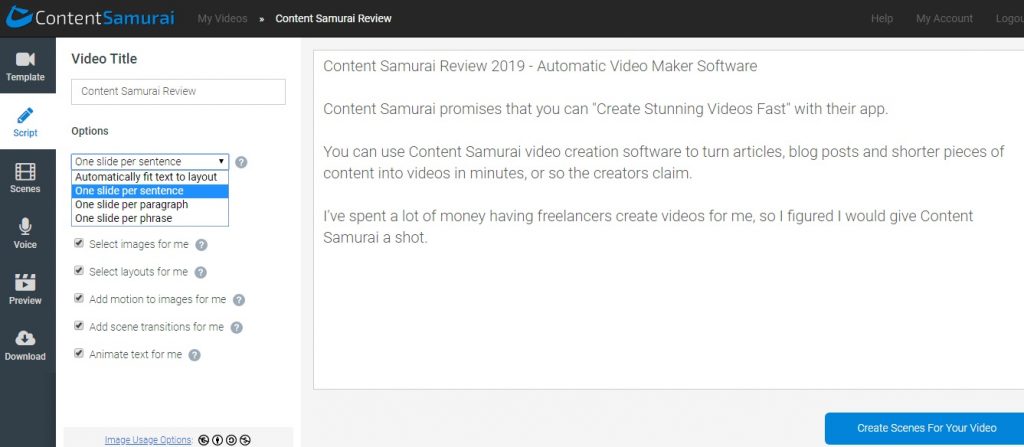 Here is where you add a title for your video. Then you enter the video script. You can type directly in the text box if you like. I wrote a video script in Word and simply copied and pasted it into the text box.
Step #3 – Click the "Create Scenes for Your Video" button in the bottom right-hand corner of the screen after you've added your script and video title. Here's where you try your hand at becoming the next Steven Spielberg!
Don't worry. This is super easy. I was a little intimidated going into this but the software makes it simple and it's very easy to understand. Probably the part I liked the most is the fact that your video has already been created at this point!
Your video script is broken into 1-sentence scenes. When you're adding your script, whatever you write in a paragraph is going to be what you see as the text for a scene in your video. Don't worry. If this sounds confusing, you will instantly see what I'm talking about when you get to this step.
If you like how your video looks, you're done! All you have to do is save the video and begin using it to build your business.
If you want to make changes, you can do that. To make changes, click on one or more of the 3 tabs at the top of the editing bar on the left of the screen. They are …
1 – Media
2 – Layouts
3 – Style
Click "Media" if you want to change the video in any scene. If you don't have any great videos, don't worry. Content Samurai provides tons of videos for you to choose from … 480,000 video clips to be precise! (You can also choose from literally millions of high quality images if you prefer.)
Use the search feature to find a video that matches the text in your scene. If you would prefer to use an image rather than a video clip, you can do that.
This next feature is really amazing, at least to me. As you are creating scenes, the software will suggest keywords from your script. All you have to do is click on one of the keywords and you are instantly presented with videos and images related to that keyword.
This can really help you match your video to your script. You add the video or image to your scene simply by clicking on it.
Okay, you have the pictures or videos you want for all your scenes. You can change the position of your text by clicking on the "Layouts" button. Your scene is divided into 9 positional squares. Choose where you want your text to go, click on that square, and you're done.
Make any edits you need to in every scene. When you're ready to add narration to your videos move to the next step.
Step #4 – Adding a voice track, your own voice or music is as easy as clicking the button that says "Add Voice Track to Your Video".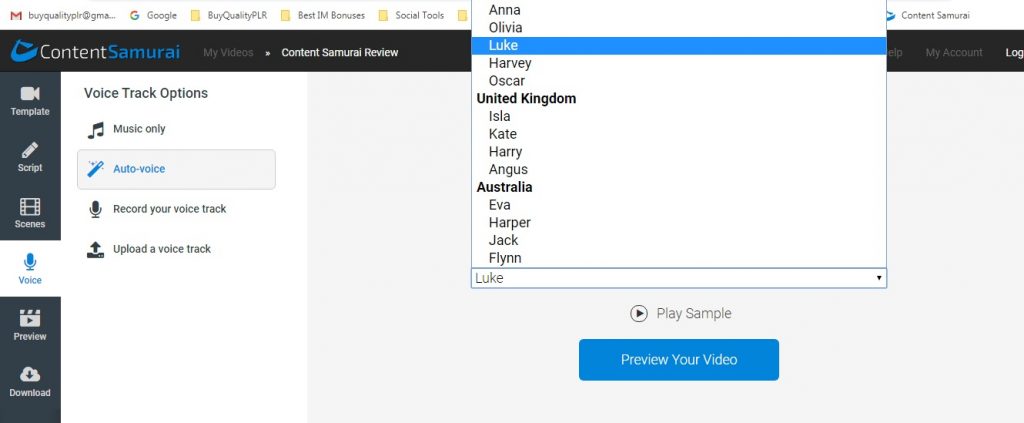 This option is located at the bottom of your scene editor. You have the following voice track options.
Music Only
Automated Voice
Record Your Own Voice Track
Upload a Voice Track
During this instructional video the "Music Only" option was chosen. There are plenty of how-to videos you have access to that will walk you through the other options here.
When you are first checking out the software, choose "Music Only" and then click the blue "Preview Your Video" button in the middle of the screen. You'll be taken to a preview screen where a random music track has been chosen for you.
Click the "Play" button and preview your video. If you like what you see in here, congratulations … you have just made your first Content Samurai video in only a few minutes.
On the editing bar on the left-hand side of your screen you can select different music provided with the software. You can also add your own music files. What is really awesome is you can manually adjust the timing of the music in your scene so you can get just the right effect.
When you're happy with the music, click the blue "Looks Good Continue" button. Then select the "Generate" button on your next screen and you're done.
When the software is finished, simply click on the "Download Your Video" button and use your videos wherever and however you like.
More Instructional Videos Are Provided If You Want to Do More
Look at the screenshot I attached above. I want you to look at the left sidebar. The #01 "Getting Started" video is what I just walked you through. You can see there are more video instructions. The videos are between 2 and 5 minutes long each, so it doesn't take long at all to become acquainted with the software. The 5 additional training videos include the following topics.
#01 – Getting Started
#02 – Video Clips
#03 – Voice over Tracks
#04 – Branding Your Videos
#05 – Top 5 Ways
How to Start Using the Content Samurai App
When you feel comfortable with the training you have received, you can start using the app on your own. Click the blue "Click Here to Start Using the App" button below the video player to get started.
You are taken to your dashboard. This will look familiar because it is exactly like the dashboard used in your training videos.
Before you click on the getting started button, scroll down the page. You'll see "Help Center " and "Community" options.
The "Help Center" should be pretty straightforward. Go here when you need help! This is where you'll find training videos and troubleshooting guides. You also get shortcuts, tips and tricks for getting the most out of the software.
Select the "Community" button if you want other Content Samurai subscribers to give you feedback on your videos. You will be taken to a private Facebook group. This is only for Content Samurai users. There are also support team members, helpful video instruction and other benefits of joining this Facebook group.
Finally, whenever you are ready to make a video, just click the "Create a New Video" button at the top right of the screen when you log into your account.
Content Samurai Pricing
I mentioned the free 7-day trial. After that, how much does this articles to video software cost? During your trial period the company offers you to sign up as a paid member at a substantial discount. Log into your free account and look for a banner at the top of the page.
The current content samurai discount cost is just $29 each month, 40% off the regular $47 monthly fee. (NOTE: Prices may change. If you like the discounted monthly fee I would recommend grabbing it in case it goes up.)
Here Are a Few Content Samurai Examples
Would you like to see some examples of what you can do with this text to video software? Take a lot at these videos that only took me a few minutes to create.
Can Content Samurai Videos Rank In Google and YouTube?
I did a quick test, created a video targeting a easy to rank for keyword.
I used the auto voice feature which I read YouTube doesn't like and that they don't rank.
And I never believe what people say about SEO, especially myths. Instead I test it and see results for myself.
I saw my video on page one of Google within minutes and uploading the video. See screenshot below.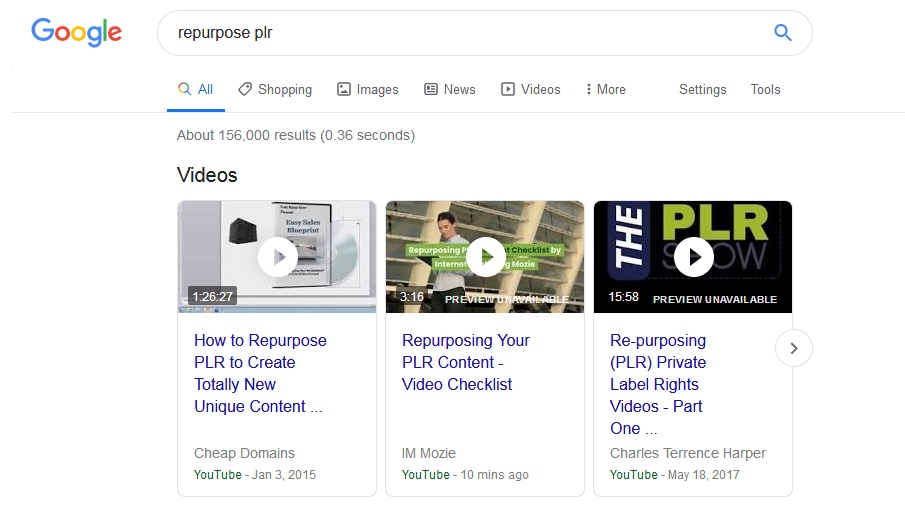 It took 10 minutes to show on page one of Google under the videos section but on the main "all" section of search. So I think content samurai can be a great way to get traffic off Google in any niche.
Use PLR articles and turn them into videos, target low competition keywords in your niche and you'll see results.
Content Samurai Review Wrap-Up
How do I feel about this product? I love it. I'm not going to sugarcoat my opinion here. Anyone can enjoy a free trial offer. I certainly did. By the second day of using the content samurai text to speech app I was creating videos in minutes that ranked in Google for the keywords I was targeting.
I'm so pleased with this software that I have been paying a monthly membership fee ever since my free trial expired. I use Content Samurai for YouTube affiliate marketing. You can too. Just add a link to your affiliate offers in your video descriptions. I also turn plr articles into videos. That's right, I don't have to write anything. I just create videos from plr content.
Video engages your prospects like simple text never will. If you use videos in any stage of your marketing plan, I recommend checking out Content Samurai. The 7-day trial is free, and you don't have to register a credit card.
The video instruction is excellent. There's plenty of support. You can find me in the Facebook group a few times a week. I use Content Samurai all the time to convert articles to video for myself and my clients. You can use Content Samurai videos to get traffic on YouTube, to post on your blog, or engage on social media.
With a 7-day Content Samurai free trial and no money on the line, what do you have to lose? The answer is nothing. Join me in the Content Samurai community and start creating great looking videos in just a few minutes.
What do you think of this review or article? Leave your feedback :)

Product Name: Break Your Limits PLR Package Author: Yu Shaun & Cally Lee My Honest Break Your Limits PLR Package Review and You Get To Choose Your Bonuses. What is Break Your Limits PLR Package Review? "POWER OF SPEED" is the [...]

Product Name: Quora Marketing PLR Package Author: Sajan Elanthor & Justin Opay My Honest The Quora Marketing PLR Package Review and You Get To Choose Your Bonuses. What is Quora Marketing PLR Package? Our expert team have fully researched [...]